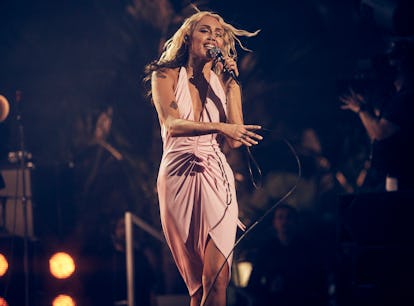 Miley Is Back, & Twitter Is Divided Over Endless Summer Vacation
NBC/NBCUniversal/Getty Images
Miley Cyrus and all her genre-bending glory has returned to the music scene. On March 10, the pop darling dropped her eighth studio album, Endless Summer Vacation. Ever since she announced the album in January, fans waited with bated breath to hear what sonic direction she would take in this new era. She eventually released her self-care anthem, "Flowers," that same month; however, it musically differed to that of her 2020 cult-favorite, Plastic Hearts. It's safe to say she had some massive shoes to fill since that release, and it seems Twitter is divided on whether Endless Summer Vacation was worth the nearly three-year wait.
For those that didn't tune in to the album's rollout, let's backtrack for a second. In late February, Miley revealed several thematic details about Endless Summer Vacation. According to a press release at the time, this record would be a love letter to vintage Los Angeles. The album's grainy trailer echoes that time period, and Miley can be seen basking in dreamy shots of palm trees while wearing '80s-inspired sunnies.
The album also chronicled her journey in prioritizing her mental and physical health. IYDK, the singer split with ex-husband Liam Hemsworth in 2019, and she hinted at their divorce in grungy hits on Plastic Hearts. Now, on her latest project, she seems to be kissing off her heartbreak and reminding herself that she still deserves love, despite the allegedly complicated throes of her last relationship.
Then, earlier this month, the singer revealed on Instagram the album was intentionally sequenced to capture those emotions. According to her, the synthy effort was divided into "A.M." and "P.M." The first few tracks were meant to capture the buzz of an early morning, while the last stretch tapped into darker, sensual themes. "In L.A. there's a certain energy to the night that you can kind of feel trouble boil up to the surface and it's very inspiring to me," Miley said in the video.
That contrast can certainly be heard on the album. As Miley ushers listeners in, the first five tracks are a bit woozy yet still intriguing to hear. The true highlight of Endless Summer Vacation lies in how mature and lush the singer's vocals are, and that's one factor many Twitter users couldn't deny. However, the slowed and stagnant aura in those earlier tunes left a mixed impression on listeners, as some found them to be a "drag" or "boring." The latter half of the album offered a lot of promise, with upbeat gems like "River," "Handstand," and her gritty trap-laced "Muddy Feet" pulsing with electricity.
Check out some of the varied Twitter reactions to Miley's Endless Summer Vacation, below.
The structure of the album didn't seem to connect with some fans.
This Hannah Montana reaction perfectly sums up how the record totes heavy lyrical content, especially the 12th track, "Wonder Woman."
Users like @aidanthereup shared that the album is more of a grower, rather than an album that you might immediately gravitate to on the first listen.
Some users fell in the gray area of enjoyment when listening to the record.
Well, that's one way to give grace to the album.
Endless Summer Vacation is out now.