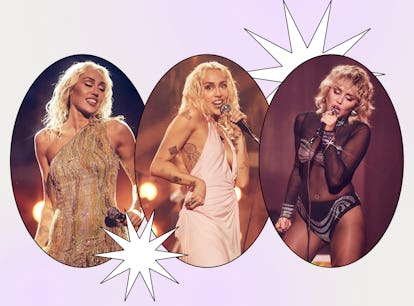 Miley Cyrus' Greatest Hits, From Disney To The Dance Floor
Revisit her catalog before Endless Summer Vacation takes over.
NBC/NBCUniversal/Getty Images, NBC/NBCUniversal/Getty Images, Peacock/NBCUniversal/Getty Images
Miley Cyrus has one hell of an iconic music catalogue. Even the dullest of her sonic moments have an interesting glimmer to them, and that can't be said for most artists. Her iconic crown lies in the fact that the singer doesn't shy away from experimenting with sounds, as evidenced by the simple evolution of her album covers.
She's coasted down a slick artistic journey, bouncing from angsty pop (2007's Meet Miley Cyrus), thrashing trap with a sometimes distasteful hint of problematic mess (2015's Bangerz), and full-fledged psychedelic (2015's Miley Cyrus & Her Dead Petz). Her last effort, 2020's Plastic Hearts, still numbs with incredible greatness nearly three years after its release. She eventually capped that era to begin her upcoming era, which already has a new refreshed Miley written all over it.
In honor of her eighth album, Endless Summer Vacation, here are 15 of the most iconic Miley Cyrus songs that hit the world like a wrecking ball. This list does exclude her iconic stint as Hannah Montana, which is a difficult pill to swallow considering bops like "Gonna Get This" and "Nobody's Perfect" shaped a lot of personalities (ahem, like my own).
The singer might be in a new sonic era on Endless Summer Vacation; however, her glam rock-persona will forever live on.