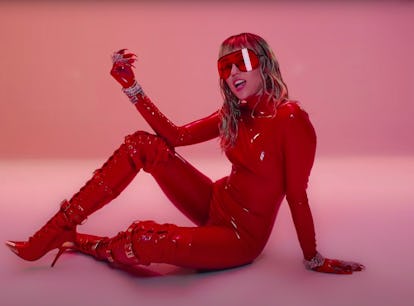 Miley Cyrus' Best Music Videos, Ranked By Big Eff You Energy
Obviously, she can't be tamed.
YouTube
Miley Cyrus doesn't hold back any punches. That energy can be traced back to her 2010 album Can't Be Tamed, an electro-pop record that boldly diverted away from her polished Disney image. At the time, she was ready to reintroduce the world to the real her, and she slipped off her Hannah Montana tresses to unveil her edgier side. Over a decade later, that audacious flare is seemingly the main character in her music videos.
Whether she's released a teaser or a fully fleshed out visual, Miley's unapologetically herself in front of the camera. She's daringly gliding across the screen, strutting as if the entire world is watching, and commanding attention with a snap of her fingers. Those unforced moves are the highlights of her visuals, and it feels natural. As she once famously cooed, "she's just being Miley."
From her tongue-wagging, IDGAF attitude during her Bangerz era to her recent unfiltered rockstar persona, here are nine music videos that ooze Miley's badass energy.