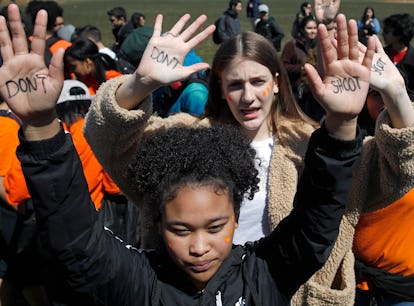 This Advice From Gun Policy Activists Will Give You The Confidence To Make Change
Here's how you can take action, even if politicians won't.
Jim Young/Getty Images News/Getty Images
The United States has a problem with gun violence. Within less than two weeks, the nation has been left reeling from a mass shooting at a grocery store in Buffalo, New York, and another at an elementary school in Uvalde, Texas. While politicians drag their feet on real action, regular Americans are wondering what they can do. Well, take it from the people who have done it. Elite Daily asked for advice from gun policy activists who have advocated for change at every level, from getting started with their local organization to building a national movement — and they shared what they think are the most important things to know and to do.
On May 14, a shooter at a grocery store in Buffalo, New York, killed 10 people in what authorities said appeared to be an anti-Black hate crime. Barely a week and a half later, a shooter at Robb Elementary School in Uvalde, Texas, killed at least 21 people, 19 of whom were children, in the worst school shooting since Sandy Hook in 2012. The shootings join the 211 other mass shootings already committed in 2022, as counted by the Gun Violence Archive, including 26 school shootings. And even these are a drop in the bucket compared to the annual deaths involving firearms: According to research and advocacy group Everytown for Gun Safety, more than 40,000 Americans die from gun violence every year.
But the troubling scale of the violence doesn't mean there's nothing you can do. Activists around the country continue to motivate their schools, their communities, and the country to take action on gun safety. For some, that means organizing within their schools and motivating fellow students to lobby or demonstrate. For others, it means pushing their representatives in government through phone calls and voting activism. For many, it means learning as you go and not being afraid to mess it up. For all, it means having the confidence to believe that your voice should be heard.
Back in 2019, Elite Daily spoke to gun violence activists — from the grassroots level to a leader of a national movement — about their advice on how to get involved and take action. While the gun violence crisis takes on a heartbreaking new face with every death, their advice on making change is evergreen. Here's what these six activists want you to know about getting involved and fighting gun violence.
The following interviews have been edited for length and clarity.
This article was originally published on