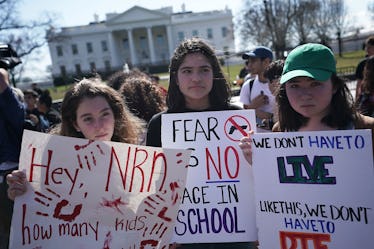 This Campaign Is Getting Students Involved In Gun Control Reform After Parkland
Alex Wong/Getty Images News/Getty Images
In the less than two weeks since the tragic shooting at Marjory Douglas High School in Parkland, Florida, thousands of people around the country are wondering what they can do to address the issue of gun violence and mass shootings. And others are here to show them. In the days after the shooting, gun safety advocacy group Everytown for Gun Safety launched a new campaign for students to take on gun control reform. So if you were wondering how to take action and get involved, this campaign may help.
On Friday Feb. 16, only two days after the shooting in Florida that left 17 people dead, Everytown, together with its partner organization Moms Demand Action for Gun Sense in America, launched their new campaign for students, Students Demand Action: End Gun Violence in America, to help high school and college students get involved in the push for gun control reform. It's one of multiple student-led gun reform campaigns that have appeared in the not-quite two weeks since the shooting, including marches and protests that are being led by student groups around the country.
The new Students Demand Action campaign is notable in who it's backed by. The nationwide campaign will see Everytown for Gun Safety, a major national gun reform nonprofit of more than 4 million advocates, policymakers, and gun violence survivors, working with students to give them the tools to craft real change on gun issues. The campaign aims to empower students talk to local legislators and hold them accountable for gun issues, elect legislators who will take action on gun control, and work within their communities to promote their own idea of what a safe community looks like. Students can text STUDENT to 644-33 to get involved.
But despite the national group's involvement, the campaign will take the shape that students activists want — and Everytown will just be there to help.
"One of the really interesting things about Students Demand Action, to me, is that it will be what the students want it to be," says Taylor Maxwell, the deputy communications director for Everytown. She tells me in an interview for Elite Daily that the real work will be done by students on the ground, who, with Everytown's help and guidance, will shape their own approach to gun issues and start chapters of the campaign wherever they are. "Our goal is to give them the resources they need and the information we have on how to work on this issue and empower them to take it on in their own way," Maxwell says, "and they will have ideas that are different than how we currently run grassroots programs."
Since the shooting in Parkland, students around the country have been actively advocating for more and better discourse on gun control in America.
Most notably, survivors of the shooting at Marjory Stoneman Douglas High Schoo themselves have been leading the charge. At a town hall aired by CNN on Feb. 21, student survivors challenged legislators and NRA lobbyists about what they planned to do to keep schools safe. Student activists are also planning various marches to demand better action from leaders and legislators, most notably the March For Our Lives, on Washington D.C., organized by survivors of the Marjory Stoneman Douglas shooting themselves.
Their activism has been an inspiration for students who are fed up with active shooter drills, weapons in schools, and the threat of violence. Beyond the March For Our Lives, other activist groups are organizing events around the country, such as a nationwide school walkout scheduled for March 14 organized by EMPOWER, the youth branch of the Women's March, and an April 20 (the 19th anniversary of the 1999 Columbine shooting) walkout that has over 77,000 pledges to participate. "For too long, we've waited on adults and Congress specifically to take action on working on comprehensive gun reform," EMPOWER youth organizer Kaleab Jegol, 17, tells Elite Daily.
It's that anger and hunger for something to do that prompted Everytown to create the new campaign.
Maxwell says that in the days immediately following the shooting in Parkland, Everytown was "deluged" by requests from students to have the gun safety group start a movement specifically for them. Maxwell doesn't have a specific count, but she says there are "thousands" of students who reached out to join in just a few days, contacting the group through a number of different platforms to ask if they had an organization that was specifically for students. "And we felt like it was time to answer that with a yes," Maxwell says.
Sophie Herrmann, an 18-year-old high school senior at Benilde-St Margaret High School in St Louis Park, Minnesota, was one of those who called. She reached out to the group at about 11:30 p.m. on a Thursday night, the day after the shooting in Parkland. "I was just so frustrated," she tells me in an interview for Elite Daily. "I was so upset with how little Congress was doing, how they were just sending their thoughts and prayers again, and it seemed like it was the same old cycle." But what she saw on social media from her fellow students inspired her. "They were being so vocal and they were being so eloquent with how they felt, and they were demanding to be heard," she says. She reached out to Everytown because she had heard of their work and felt it was time for students to be involved and take initiative to feel safe in schools.
"It's so real for us to be practicing lockdown drills and all of that preparation that goes into it," she says. "We grew up with seeing school shootings in the news. And I thought that we are ready, and we have the drive to really start advocating for ourselves."
The fight is not over, it's really just starting for us. We have a voice, and it's OK that we demand action.
Herrmann calls getting legislation for common-sense gun reform, whether on the state or federal level, the number one priority. "The midterm elections are less than nine months away, and I think that we need to make it clear that gun control needs to be a topic that comes up in every debate, and every candidate we ask what their stance is," she says. Both she and Maxwell agree that it's crucial to vote in legislators who will take action on gun reform.
Everytown has a sister campaign that may help with that. The Throw Them Out campaign, launched the same day as the new Students Demand Action campaign, aims to push out elected officials who won't take action on gun safety and replace them with legislators who will. The campaign also encourages people who are passionate about gun reform to run for office themselves, with Everytown providing help and guidance.
And for those who are nervous or unsure about getting involved, Herrmann has a message. She wants students and young people to know that they have a voice, and to not be afraid to exercise it — whether it's on Twitter, in a march, or getting involved with a campaign. "The fight is not over, it's really just starting for us," she says. "We have a voice, and it's OK that we demand action."