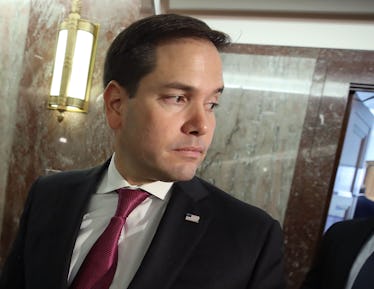 A Parkland Student Asked Marco Rubio About Accepting NRA Money & The Video Is Intense
Mark Wilson/Getty Images News/Getty Images
One week after the tragic school shooting at Marjory Stoneman Douglas High School in Parkland, Florida, advocates, parents, legislators, and Parkland survivors gathered for a town hall on gun reform with CNN. The conversation and discussion was colored by pain, and many of those gathered were clearly still reeling from the tragedy. But the student survivors and advocates continued to make their calls for gun control loud and clear. And one of the most powerful moments of the night was the moment when Parkland survivor Cameron Kasky asked Marco Rubio about accepting NRA money.
Kasky, one of the survivors of the Feb. 14 school shooting that killed 17 students and faculty, challenged Rubio on his donations at the CNN town hall with survivors of the Parkland shooting called "Stand Up: The Students of Stoneman Douglas Demand Action" on Wednesday, Feb. 21. During a section in which Senators from Florida Marco Rubio and Bill Nelson, along with U.S. Representative Ted Deutch, spoke with survivors and advocates, student survivor and organizer Cameron Kasky stood up to face down Rubio and ask him about contributions from the National Rifle Association (NRA).
Against the rules, Kasky stepped away from his seat to stand facing Rubio at the center of the stage before addressing him directly. He said,
This isn't about red and blue. We can't boo people because they're democrats and boo people because they're republicans. Anyone who's willing to show change, no matter where they're from, anybody who's willing to start to make a difference is someone we need on our side here. And this is about people who are for making a difference to save us and people who are against it and prefer making money. So, Senator Rubio. Can you tell me right now that you will not accept a single donation from the NRA?
At Kasky's question, the crowd stood and cheered. You can watch the powerful moment below.
Rubio has been one of the top ten career beneficiaries of NRA campaign spending in the U.S. Senate, according to a New York Times report in October 2017. As of Oct. 4 2017 — shortly after the Las Vegas shooting that saw 58 people killed — Rubio had received over $3 million, whether through campaign contributions or other spending that benefitted him.
As Rubio started his answer, he was occasionally interrupted by angry shouts from the crowd. "Number one, the positions I hold on these issues of the second amendment, I've held since the day I entered office in the city of West Miami as an elected official," he said. He continued,
Number two — no, the answer to the question is that people buy into my agenda. And I do support the Second Amendment. And I also support the right of you and everyone here to go to school and be safe. And I do support any law that would keep guns out of the hands of a deranged killer. And that's why I support the things that I have stood for and fought for.
As Rubio went on without a solid answer on the funding issue, Kasky shook his head. "No more NRA money? More NRA money?" he asked.
As Rubio restated his answer, the crowd began yelling. Rubio did not say that he would not accept the NRA's money.
On social media, many people called out Rubio's non-answer.
It's the latest face off between student advocates and legislators who they feel haven't done enough on gun reform.
Student advocates, including Kasky, are organizing a march on Washington for gun control and reform, called the "March For Our Lives." Announcing the march, which will happen on March 24, Kasky called out the idea that it "wasn't the time" to call for gun control. He said,
People are saying that it's not time to talk about gun control. And we can respect that. Here's a time. March 24th in every single city. We are going to be marching together as students begging for our lives.
The march already has serious celebrity backing — heavy hitters such as Oprah, George and Amal Clooney, and Steven Spielberg have all promised to contribute in the high six figures. A GoFundMe page for the march promises that all the money left over "will be going to the victims' funds."
If they need even more money, though, they could always check in with Rubio. They know he's got the funds.