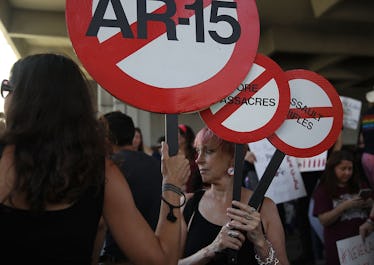 Students Are Actually Behind The Planned Walkouts For Gun Control — EXCLUSIVE
Joe Raedle/Getty Images News/Getty Images
On Monday, Feb. 19, the organizers of three upcoming demonstrations against gun violence, including student walkouts, released a joint statement of solidarity, which spoke to some of the criticism the planned events have been getting. Contrary to the criticism, the upcoming gun violence walkouts are largely being led by students themselves. The organizers of the three main protests planned this spring released a statement Monday saying that they "support all efforts to raise awareness of gun violence through student action." I spoke with organizers about the Enough! Walkout to learn more about how these demonstrations are working.
We're taking the power that we do have, because whether or not we're students, we do still have the power to demonstrate and pressure our Congress members.
These protests are being held to support gun control in the wake of a school shooting in Parkland, Florida. On Wednesday, Feb. 14, a shooter opened fire at Marjory Stoneman Douglas High School in Florida, killing 17 students and teachers. Throughout the last week, the tragedy has brought gun control and violence back into the national spotlight. And this time, students are taking to the streets about it — literally.
The first event, slated for Mar. 14, is the Enough! Walkout, being organized by EMPOWER, the youth branch of the Women's March. As of Monday, Feb. 19, the call to action had already garnered more than 250 solidarity events scheduled around the nation. At 10 a.m. in each time zone, students and their allies will leave their classrooms for 17 minutes to represent the victims. As of writing, 29,000 Facebook users had indicated they'd be participating, with another 107,000 interested.
The second event, chronologically, is the March For Our Lives, organized and led by Stoneman Douglas students. Taking place in Washington D.C., sister marches will happen around the country on Saturday, Mar. 24.
Finally, there's another walkout planned for April 20, which is the 19th anniversary of the Columbine shooting. This one, the National School Walkout, was organized by Connecticut high school sophomore Lane Murdock, whose Change.org petition has garnered over 77,000 pledges to participate, as of this writing. "We want this day to be a visual and vocal representation of the teen population's desire to speak," Murdock said, per NBC. "At the end of the day, we're the ones who are being hurt in our schools."
The backlash was mainly over who was organizing these events, particularly whether they were being led by students — who immediately raised their voices in the aftermath of the Parkland shooting. Others, meanwhile, felt that having multiple events might detract from the cause.
In an interview for Elite Daily, EMPOWER Youth Coordinator Tabitha St. Bernard-Jacobs says that the groups have been working in support of each other. The youth team came together following the news of the shooting to discuss actions around it. Around the same time, she says, they reached out "through every channel" to the students organizing the other events, but wanted to respect their space during a time of grief.
"As soon as we started organizing and realized other students were organizing in this space, we reached out to them," St. Bernard-Jacobs says. Responding to the critics, she notes that the pushback online hasn't come from the young organizers themselves — or youth at all, for that matter. "The thing we've noticed is that young people have no problem organizing with each other. ... We've been organizing with Lane [Murdock], we've gotten tweets from March For Our Lives that are in support of all three actions. Our young organizing are working together."
As for EMPOWER, teens are doing the work, too. St. Bernard-Jacobs is one of only two non-youth individuals assisting the youth team, which is comprised of 11 high school and college students aged 16 to 23. EMPOWER receives "operational support" from the Women's March, she says. The group is also receiving support from Emerge America and Women's Media Center for the toolkit.
While EMPOWER youth organizer Kaleab Jegol, 17 and a high school senior in Ohio, has not personally been in contact with any of the Stoneman Douglas students, he's overseeing a group of 60 students nationwide who will lead the Enough! walkouts in their schools on Mar. 14.
"This issue [gun control] is something we could all come together and work on," Jegol tells me in an interview for Elite Daily. "For too long, we've waited on adults and Congress specifically to take action on working on comprehensive gun reform. It's a moment for many teens like myself where we're saying, 'We're no longer going to be silent and we're no longer going to be complicit.'"
He hopes the walkouts this spring will result in action by Congress.
That teens are the ones leading the charge, Jegol says, is a shift away from the norm. "In the past, many of us haven't taken any charge against this issue just because we do wait on our Congress members to take that action. But now, we're taking the power that we do have, because whether or not we're students, we do still have the power to demonstrate and pressure our Congress members to vote in our favor. Because at the end of the day, they do work for us," he says.
It won't be long before these teens are of voting age, a reckoning day for politicians. Jegol, for one, turns 18 this May and plans to vote in the upcoming 2018 elections.
Already, solidarity is clear among the activists. Walkouts have been happening through the last several days. On Tuesday morning, hundreds of students walked out of West Boca Raton High School and marched to the scene of last week's shooting, The Miami Herald reports. This followed a rally on Saturday, Feb. 17 in Fort Lauderdale, and another one the day prior in Hollywood, Florida.
St. Bernard-Jacobs believes the organizers and activists involved will continue to push forward and work together to enact change. Both she and Jegol plan to participate in the March For Our Lives and the April 20 walkouts.
"In this moment young people are saying, 'We don't want to lean on adults anymore, we want to take our moment and take our voice and make sure it's heard,'" St. Bernard-Jacobs says. "That's not a movement that's going to end on April 20. That is something that's going to carry forth."
EMPOWER will host a public call-in Q&A session on Thursday, Feb. 22 at 8:30 p.m. ET. For more information, visit their website and Twitter.