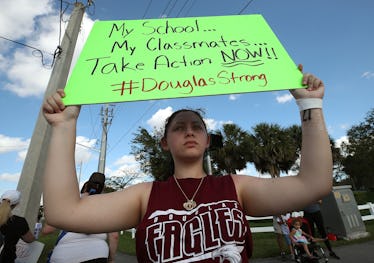 Students Are Planning Walkouts For Gun Control & This Is What You Need To Know
Mark Wilson/Getty Images News/Getty Images
After the shooting in Parkland, Florida last week left 17 dead, the topic of gun control and violence has been brought once again to the fore of conversations nationwide. In protest of the violence, students are walking out for gun control and holding demonstrations nationwide. The events will take place over the next couple of months in around the country.
On Feb. 14, a former student opened fire at Marjory Stoneman Douglas High School in Parkland, rattling the both the local and larger community. Now, students and non-students alike are taking action to demand action on
There was already one rally in Hollywood, Florida on Friday, Feb. 16, and another in Fort Lauderdale on Saturday, and there's at least three other national actions planned around it. Here's what to know about the actions scheduled around the country to protest gun violence.
First, there are two national walkouts taking place.
Enough! National School Walkout — Wednesday, Mar. 14
The first walkout, chronologically, will take place on Mar. 14 at 10 a.m. (in every time zone) and will happen in schools across the country. In this walkout, titled Enough!, students and their allies are encouraged to leave wherever they are for 17 minutes, a number chosen to reflect the number of victims of last week's tragedy.
This event is being organized in part by EMPOWER, the youth arm of the Women's March group. As of 10 a.m. ET Monday, some 26,000 people had indicated they would participate in the Mar. 14 walkout via Facebook, and another 96,000 indicated interest. The hashtag for this event is #ENOUGH.
According to the official EMPOWER map of listed walkouts, as of 10 a.m. ET writing, there were over 250 events in all but five U.S. states. So far, no walkouts have been listed in Kansas, Wyoming, South Dakota, Alaska, or Hawaii. (UPDATE: As of March 8, there are now listed walkouts in Kansas, Wyoming, Alaska, and Hawaii.)
National School Walkout — Friday, Apr. 20
There is another walkout planned for Apr. 20 in honor of the 19th anniversary of the Columbine shooting. As of this writing, some 58,300 people had signed the event's Change.org petition, signaling their plan to participate. This event is being billed as the National High School Student Walk-Out, per the petition, and appears to be student-led.
A user named Lane Murdock started the petition, which is targeting the U.S. Senate and the president. According to the Twitter bio, Murdoch is 15 years old and a sophomore.
"On Friday, April 20th we want students to attend school and then promptly WALK-OUT at 10:00 am.," read a tweet from the official "National School Walkout" handle. "Sit outside your schools and peacefully protest. Make some noise. Voice your thoughts."
"We are the students, we are the victims, we are change, fight gun violence now!" reads the petition. "High School students across the U.S.A, the way to fight back is here. There has been too much complacency on the part of politicians when it comes to gun violence. The time to act is now!"
The hashtag for this event is #NationalSchoolWalkout, according to the petition.
National Day of Action Against Gun Violence In Schools — Friday, Apr. 20
Separately, the Network for Public Education (NPE) is calling for a National Day of Action Against Gun Violence In Schools on Apr. 20 as well. I spoke with NPE Executive Director Carol Burris about the event.
The day of action, she says, is being organized in conjunction with the National Federation of Teachers and the National Education Association "to promote a variety of actions on that day as well as to promote education that will impact and reduce gun violence."
The event is not in competition with any of the marches or walkouts; rather, it will serve as a platform to publicize known events (like the walkouts) as well as provide alternatives to them. "We will amplify that work and get that out to our members — 330,000 nationwide," Burris says.
In addition, she adds, "We want to encourage people in their own communities to come up with activities that make sense to them."
The organization is calling for people to share their ideas for taking action, as well as pledge their support. So far, Burris says, 19,000 people have taken the pledge.
March For Our Lives — Saturday, Mar. 24
The March For Our Lives is another way for people to get involved and show up.
"March For Our Lives is created by, inspired by, and led by students across the country who will no longer risk their lives waiting for someone else to take action to stop the epidemic of mass school shootings that has become all too familiar," the mission statement reads.
While the official event will be held in Washington D.C., there are marches planned in locations nationwide.
There's already some tension brewing around the events.
On Twitter, some users appeared to take issue with the Women's March walkout in favor of the Apr. 20 walkout, citing the leadership.
"Two demonstrations would be powerful," wrote one user in a reply on Twitter. "But, I think the students taking the lead is what should happen. If there are two, so be it. What cannot happen is division."
Elite Daily has reached out to the Women's March for comment on whether students would be involved in the Mar. 14 walkout, but did not hear back at time of publication.
Other users claimed that all schools in the state of Colorado would already be closed on Apr. 20 in observation of the Columbine shooting. However, according to the Denver Public School schedule, this doesn't appear to be the case, at least for this academic year.
If you're looking for more ways to get involved and help the victims after the Parkland shooting, here's a great place to start.