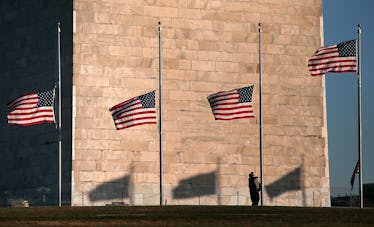 Here's How To Help After The Tragic Parkland School Shooting
Win McNamee/Getty Images News/Getty Images
The Feb. 14 Parkland, Florida shooting at Marjory Stoneman Douglas High left all of us shaken. The tragedy, which resulted in the loss of 17 lives, has all of us asking what we can do. Well, here's how to help after the Parkland shooting — from donations to petitions.
First things first: Try to understand that this might be one of the most traumatic experiences of these individuals' lives. Some try to cope by turning to those who have gone through similar experiences, while others take a more proactive role by addressing Congress about gun control.
No matter how you choose, there's a multitude of ways you can help those affected by this tragedy.
Connect with Support Groups
Oftentimes talking with those impacted can go a long way towards understanding the severity of events such as these, according to Laurie Works, a contributor to The Huffington Post, and survivor of the Colorado Springs Church shooting in 2007. In her open letter "Supporting Victims In The Aftermath Of Mass Shootings," she discusses how she coped with experiencing such an event.
She wrote,
December 9, 2007, I was witness to an unthinkable tragedy. I was walking out of New Life Church in Colorado Springs that Sunday when a gunman opened fire on our family minivan. The shooter killed my twin sister Stephanie and younger sister Rachel and non-critically wounded my father. The past 10 years have been a journey of healing from the most horrific event of my life
She goes on to mention a number of organizations such as The Rebels Project, which is an organization dedicated to helping those impacted my mass shootings.
Other organizations such as The Sandy Hook Promise promote bringing awareness to innocent lives lost at the hands of gun violence.
Contact Congress about Gun Control
USA.gov's "How to Contact Elected Officials" page allows individuals to get in touch with federal, state, and other local leaders in order to address this hot button issue.
To make your voice heard, contact the Capitol switchboard at (202)-224-3121. Once you're on the line, ask to be connected with your local representative in the House or Senate, and then you'll be transferred to their office to likely speak with their legislative assistant. Make sure your message is clear to them that you want to see real action taken on gun control to prevent tragedies like this one from happening again. Remember to only contact representatives from within your state in order to be the most effective in your pursuit of stronger gun control measures.
Donate Blood
The need for a large supply of blood donations after a mass shooting is great. While these are situations you might not want to think about, the reality is that blood donations are a necessity during such a tragedy. Thankfully, Florida-area blood donation service, OneBlood announced that the immediate need was met following the shooting, but that depleted the blood supply, and now there is a shortage of O negative blood, according to a OneBlood press release.
You can help if you're near or far from Parkland, Florida. Local residents (located in Florida and parts of Alabama, Georgia, and South Carolina) can donate directly to a OneBlood donation center. If you're not in the area, you can utilize the American Red Cross, and donate anywhere across the country by going to their website to locate a donation center near you.
Donate to the Victims' Families
The Broward Education Foundation set up a GoFundMe page to "provide relief and financial support to the victims and families of the horrific shooting." You can donate to the Stoneman Douglas Victims' Fund thanks to the Broward Education Foundation, which is a nonprofit organization that is "solely dedicated to raising funds for Broward County Public Schools," according to the GoFundMe page.
Join the Gun Control Cause
Beyond contacting Congress, you can also be proactive in the fight against gun violence by joining groups like Everytown for Gun Safety. The organization works to end gun violence and make communities safer by focusing on issues like background checks and gun trafficking.
You can get involved with the organization in your very own community by going to the website to find Everytown events near you. You can also donate to the Everytown cause, and you can educate yourself on some of the most important issues pertaining to gun control.
So, if you have a hard time reconciling the fact that these mass shootings have quickly become the new normal in the U.S., you can do something about it. Every voice counts when it comes to advocating stronger gun control, and it's time to make yours heard.