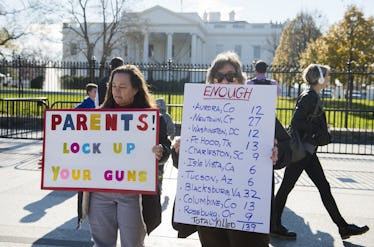 This Is How You Can Contact Congress About Gun Control After The Las Vegas Shooting
SAUL LOEB/AFP/Getty Images
When people hear news of such a horrible tragedy like the Las Vegas shooting that occurred on the night of Oct. 1., there is a desire to want to help. At first, the problem can seem too big for you to do anything, but there are ways to help. If you're looking to possibly prevent mass shootings in the future, then you can read on to find out how to contact Congress about gun control.
According to NBC News, Democratic Senator Chris Murphy of Connecticut sent a bold message to Congress, commenting on their inaction with regard to gun control reform. NBC reports that Murphy insisted "Congress get off its ass and do something." According to NBC, Murphy went on to blame some of his colleagues for being too closely tied to the gun industry and allowing that cozy relationship to color their lack of response to gun violence.
Murphy took to Twitter to express his feelings as well.
If you're feeling similarly fired up about wanting to take action, you can contact your local government officials by finding them through the USA.gov "How to Contact Your Elected Officials" page. There's also the simple step of calling the Capitol switchboard at (202)-224-3121. From there, you can be connected to your representative in the House or Senate (or, more accurately, a legislative assistant in their office) and tell them that you want to see action on gun control. Just be sure to not contact a representative from outside of your state.
It can be difficult to know exactly how to make a difference on an issue as broad as gun control, but don't worry, there are many resources out there to help.
Everytown For Gun Safety is an organization that works toward the prevention of gun violence. In a press release statement that was emailed from Everytown to Elite Daily, the organization talks about the Sportsmen's Heritage and Recreational Enhancement Act (SHARE). According to Everytown, the SHARE Act would deregulate gun silencer safety laws.
Some members of Congress are pushing to vote as early as this week. If you would like to contact your Representative in Congress to tell them to oppose this measure, you can do so with the guidance of Everytown.
The organization provides a description of the proposed SHARE Act on their website. They point out that the loud noise a gun makes is one of its most important safety features. When people hear a gunshot, as Everytown explains on their website, they know to run away from it and protect themselves.
Previous to this proposed law, Everytown explains that, by federal law, law-abiding citizens were the only ones who had access to gun silencers. With this proposed SHARE Act, there is a greater chance that gun silencers would be more readily available to fall into the wrong hands.
Hillary Clinton posed the question of what the damage might have been in Las Vegas if the gunman had a silencer.
So, if you would like to inform your Representative of your feelings on the matter, you can use the webpage provided by Everytown and follow their lead.
Everytown makes it easy for you to fill out some simple information about where you live in order to figure out who you need to contact, and then, the organization provides instructions so you can make sure your opposition to the deregulation of gun silencers is recorded.
If you're still a little puzzled about the matter, Everytown states the importance of keeping gun silencers regulated. They explain on their website that putting gun silencers in the wrong hands would make it more difficult for bystanders and law enforcement officials to react quickly in the event of a shooting.
In a statement in Everytown's press release, the organization cites the Oct. 1 tragedy as an example of how the absence of a gun silencer possibly helped to save lives. They say:
During last night's horrific shooting, people fled when they heard gun shots. Instead of pushing to vote on legislation that would gut silencer safety laws and put more lives at risk, our leaders should finally come together around common-sense gun laws that will keep people safe.
If you want to make sure you're doing your part in the wake of tragedy, pick up the phone and let your representative know that you are opposed to the deregulation of gun silencer laws in the SHARE Act.
Every voice counts.
Editor's note: This post was updated to include the Capitol switchboard number, (202)-224-3121.