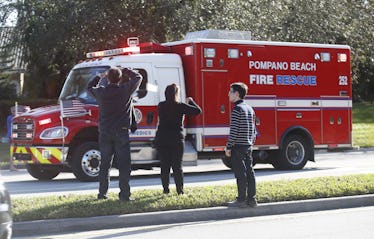 A School Shooting In Parkland, Florida Has America Horrified — REPORT
Wilfredo Lee/AP/REX/Shutterstock
A sudden school shooting in Parkland, Florida has everyone shaken. On Feb. 14, a shooter opened fire in Marjory Stoneman Douglas High School. Authorities reportedly have the suspected shooter in custody.
The shooting started close to 3 p.m ET. Footage shows students running across the high school campus as SWAT team members stand guard. At 4:22 p.m ET the Broward County Sherrif office tweeted that there have been 14 victims rushed to the Broward Health Medical Center and Broward Health North Hospital. Shortly before 6:30 p.m. ET, Broward County Sheriff Scott Israel's office confirmed 17 fatalities via a Twitter post.
Both CNN and the Broward County Sheriff Office Twitter are updating the public on this tragedy.
According to Broward Schools' Twitter account, gunshots were heard on Marjory Stoneman Douglas High School's campus, leading to immediate student dismissal.
Broward Schools tweeted at 3:36 p.m. ET,
Today, close to Marjory Stoneman Douglas High School's dismissal, students and staff heard what sounded like gunfire. The school immediately went on lockdown but is now dismissing students. We are receiving reports of possible multiple injuries. Law enforcement is on site.
Marjory Stoneman Douglas High School holds a student body of 3,100 according to the National Center for Education Statistics. The campus is close to both an expressway and two major roads.
Students have evacuated from campus.
According to CNN, the alleged shooter was reportedly once a student of Marjory Stoneman Douglas High School, but isn't currently enrolled.
The community is devastated at this tragedy. Superintendent of Broward County schools, Robert Runcie told CNN that they received "no warning or indication" that such a tragedy would occur. He asked the public for their support.
He said,
It's a day you pray, everyday that I get up, that you never have to see. It is in front of us and I ask the community for your prayers, your support, for these children and their families. We're going to do whatever we can to come together as a community, to pull through this and we will.
Since reports of the shooting, Florida Governor Rick Scott spoke to President Donald Trump, who took to Twitter to express his sympathy. He also said he was working with Scott and law enforcement.
My prayers and condolences to the families of the victims of the terrible Florida shooting. No child, teacher or anyone else should ever feel unsafe in an American school.
According to CNN, Parkland was voted as Florida's safest city in 2017. This finding is from Washington-based National Council for Home Safety and Security, which found only seven reported violent crimes last year of its population of nearly 30,000.
This mass shooting is sure to once again bring up the conversation of gun control.
Following this horrific event, Connecticut Democratic Senator Chris Murphy took to the Senate floor on Feb. 14 to speak about the rise of mass shootings within the United States.
He said,
Let let me just note once again for my colleagues: this happens nowhere else other than the United States of America. This epidemic of mass slaughter, this scourge of school shooting after school shooting. It only happens here not because of coincidence, not because of bad luck, but as a consequence of our inaction. We are responsible for a level of mass atrocity that happens in this country with zero parallel anywhere else. As a parent, it scares me to death that this body doesn't take seriously the safety of my children, and it seems like a lot of parents in South Florida are going to be asking that same question later today
According to gun safety advocacy group Everytown for Gun Safety, this is the 18th school shooting so far in 2018, including eight incidents in which a gun was fired but no one was injured and two instances of attempted or completed suicide. On Aug. 8, 2017, Newsweek reported that there had been more mass shootings than days that had passed in the year, with 244 mass shootings and only 240 days into 2017.
Our thoughts are with the victims and families of this tragedy.