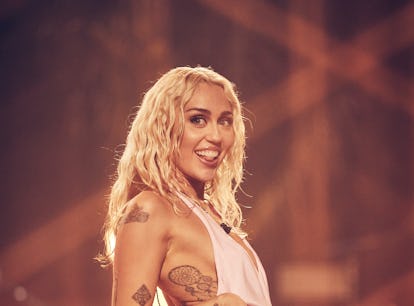 Will Miley's New Era Sound Like Bangerz? The Clues Are Adding Up
NBC/NBCUniversal/Getty Images
2023 is going to be a big one for Miley Cyrus. Just minutes before ringing in the new year, the star announced she's making her music comeback with a new single called "Flowers." Since Cyrus is known for constantly experimenting with new genres, fans can't help but wonder which sound she'll try next. So far, there are a few hints "Flowers" could sound like her fourth studio album, Bangerz. Don't believe me? Then wait until you see the evidence.
Cyrus gave fans a glimpse at her upcoming era during her second annual Miley's New Year's Eve Party on Dec. 31. The "Prisoner" singer released a 17-second video teaser that showed her wearing a gold dress and black sunglasses while walking down the street. The clip also featured a snippet of Cyrus' new single, and judging by the lyrics, it sounds like "Flowers" will be a self-love anthem. "Can love me better/ I can love me better, baby," Cyrus sang during the teaser, which only included her isolated vocals.
The star ended her video by announcing "Flowers" will mark the debut of a "New Miley" and that the single will drop on Friday, Jan. 13.
So, what could this New Miley sound like? Get this: The star could be bringing back her Bangerz era. According to People, on Nov. 20, Rae Sremmurd shared a series of photos with Cyrus in the recording studio. "EAR DRUMMERS & HEAD BANGERZ! 👂🥁," they captioned their post.
While the mention of Bangerz could have just been a fun reference to her hit 2013 album, it's possible the hip-hop duo could have hinted toward Cyrus' new sound. According to People, besides Rae Sremmurd, Swae Lee, and Slim Jxmmi, Cyrus was pictured working alongside music producer Mike WiLL Made-It, who also collaborated with her on Bangerz.
Bangerz is considered one of Cyrus' most diverse albums since it featured genres like pop, R&B, and hip-hop. The record notably featured hit singles like "We Can't Stop," "Wrecking Ball," and "Adore You," and helped Cyrus earn a Grammy nomination for Best Pop Vocal Album, which marked her first time ever being nominated at the awards show.
Since dropping Bangerz, Cyrus dove into psychedelic pop on Miley Cyrus & Her Dead Petz, country pop on Younger Now, and rock on Plastic Hearts. As for which genre Cyrus will take on next, fans will have to wait until Jan. 13 to find out.