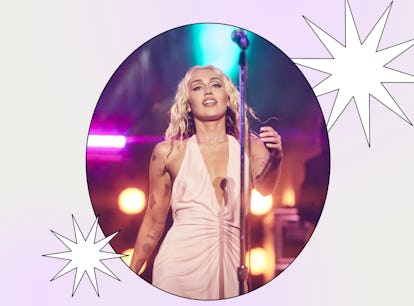 Let's Guess What Every Endless Summer Vacation Song Will Be About 👀
Can someone add me to the songwriting credits?
NBC/NBCUniversal/Getty Images
Miley Cyrus is embarking on a riveting vacation soon — like, next week soon. The pop darling will drop her album, fittingly titled Endless Summer Vacation, on March 10, and the hype leading up to its upcoming release has been well-deserved. Miley has already teased the album's sonic potential with her hit "Flowers," an alleged side-eye to her ex-husband Liam Hemsworth. Now, the singer has shared more details about the album.
On Feb. 27, Miley revealed the 12-song tracklist for Endless Summer Vacation on Instagram. This forthcoming release isn't a solo offering from her, as she has features with artists Sia and Brandi Carlile on the list. In the IG post, the "Flowers" crooner shared a gritty, behind-the-scenes video of her posing for the album's cover. While strutting in a black swimsuit and closed-toe pumps, various song titles such as "Jaded," "Thousand Miles," "You," "Handstand," and "Rose Colored Lenses" float across the screen.
The electronic instrumental in the background, which is a brash mix of techno sirens and glitchy synths, pulses as more titles pop up. It's not clear whether this sound belongs to any of the tunes on Endless Summer Vacation; however, it's so richly layered with those slinging drums and gnarly riffs that I'm hoping it appears on the album. As Lil Nas X finely commented under the post, "she's mothering" this season.
Besides describing Endless Summer Vacation as a "love letter" to Los Angeles, Miley hasn't given any peeks to the theme behind each track. That's left room for fans to speculate the lyrical direction she'll take on this album. From iconic revenge anthems about past relationships to potential bops about her soaking up the sun, here are some guesses as to what every song on the album could be about.
1. "Flowers"
"Flowers" has blossomed to become the self-love-meets-diss-track hit of the spring. Miley began her new era with this release, which is fitting considering a summer vacation wouldn't be fulfilling without prioritizing your needs. On this track, Miley's buying herself bouquets of flowers and going on solo dates to the beach — all the self-lovin' necessities her last partner didn't give her. Fans believed she was throwing shots at her ex-husband Liam Hemsworth, especially since "Flowers" came out on his birthday, Jan. 13.
2. "Jaded"
This title screams heartbreak anthem. Miley knows how to cook up a woozy hit about relationships (ahem, "Flowers"), so I can imagine her writing gripping lyrics about dealing with a jaded partner. There could be some truth to this, as Genius added a few lyrics to the not-yet-released track on Feb. 27. Miley nor her team have confirmed these to be the actual lyrics. However, it'll be interesting to hear her coo these emotional lines over slow-pop arrangements similar to "Adore You" or "Slide Away."
3. "Rose Colored Lenses"
Besides the 11th track "Island," this title boasts some serious summer energy. Miley might indulge in a "I'm choosing to look at the world through rosé-colored glasses" type of mindset on this song, and that's such a mood. As for production, she could go in any direction. She could deliver this summer-y aura on a short, disco-pop record with repetitive lyrics, or add an alt-pop edge (fierce guitars and her raspier timbre) to it. Either way, it's sure to be unforgettable.
4. "Thousand Miles"
There's something about "Thousand Miles" that gives me carefree energy. Similar to "Rose Colored Lenses," this could be a synthy confessional about driving "a thousand miles" away from the city for some piece of mind. Music video-wise, I can see Miley twisting her blonde tresses into a claw clip, slipping on her favorite sunnies, and cruising on the freeway with the top down. "Malibu" 2.0, maybe?
5. "You"
If this title embodies You à la Joe Goldberg, then listeners are in trouble — or could maybe expect an intriguing murder mystery? Realistically, with such a straightforward title, this could be a love song about a special person in her life.
6. "Handstand"
Now this title sounds fun. With a commanding move like the handstand, there's a chance Miley could give listeners an upbeat groove with spicy lyrics. Genius hinted the lyrics for this track could stem from a brief teaser Miley shared on Twitter. Riding on a wavy, syncopated beat, Miley speaks about meeting someone on a neon boat, where they sailed by "electric eels" and watched cowboy-outlined stars twinkle in the sky. OK, now that's living the life. Similar to "Jaded," Miley nor her team have confirmed the lyrics to "Handstand."
7. "River"
"River" could be a love tune about how she and her new partner's relationship flows like a body of water.
8. "Violet Chemistry"
Miley might be in her "Lavender Haze" bag with this tune, and I'm living for that. It seems that violet or purple-tinted hues symbolize love, so the pop darling could explore that angle in this track.
9. "Muddy"
While "River" and "Violet Chemistry" might dive into the honeymoon phase of romance, "Muddy" could delve into the trickier parts of being in a relationship.
10. "Wildcard"
It's no secret that Miley is a badass artist. From her eclectic live performances to her gritty delivery on her studio albums, the singer has always possessed this unapologetic and empowering flare. "Wildcard" could simply be an ode to herself and how she's freeing that aura all summer long.
11. "Island"
As mentioned, "Island" can be a summer anthem raging with synths and nods to cheeky references about the season. A disco-pop arrangement would pair beautifully with this sort of theme, as well.
12. "Wonder Woman"
Upon first glance, this title instantly reminded me of her hit, "Mother's Daughter." IYDK, the 2019 single is an unabashed nod to female and gender-nonconforming empowerment, and how Miley will never allow anyone to "f*ck with her freedom." Similar to how that infectious track highlights gender rights, "Wonder Woman" could adopt that angle.
Miley's Endless Summer Vacation will release on March 10.