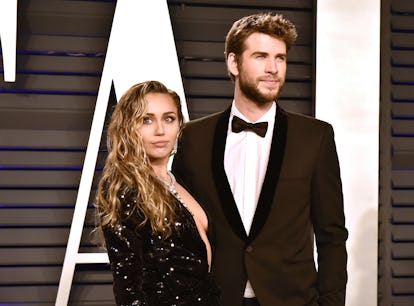 Miley & Liam's Relationship Timeline Hit Me Like A Wrecking Ball
David Crotty/Patrick McMullan/Getty Images
Over the course of their 10 years together, Miley Cyrus and Liam Hemsworth had plenty of ups and downs. When the duo (pop culture's version of high school sweethearts) tied the knot in December 2018, it seemed like the romantic end of the rollercoaster. But when they separated and divorced in August 2019, it was clear that Cyrus and Hemsworth would be getting a less rom-com worthy ending.
On Jan. 13, 2022, aka Hemsworth's birthday, Cyrus is releasing her new single "Flowers." For obvious reasons, fans predict that her relationship with Hemsworth will play a big part in the album. After all, he's been her muse before. When her third album Can't Be Tamed was released in 2010, Cyrus confirmed to MTV that many the songs were about Hemsworth. "There are a lot of songs that are about Liam. I tell him every one's about him," she explained.
Only time will tell if the same is true for "Flowers," but in the meantime, here's a full rundown of their relationship.
This article was originally published on