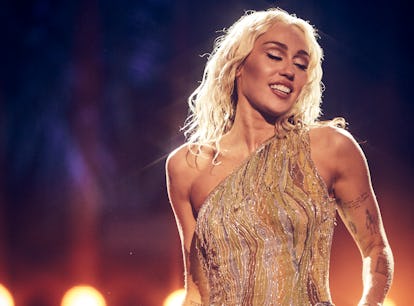 7 Reasons Miley's New Album Could Be Her Most Successful Yet
"Flowers" is already a certified hit.
NBC/NBCUniversal/Getty Images
Miley Cyrus is having a moment. After kicking off 2023 with her very own New Year's Eve special, the star soared to the top of the charts with her latest single "Flowers." The track, which is rumored to be about Miley's ex-husband Liam Hemsworth, will be featured on her eighth studio album, Endless Summer Vacation. Although the record won't arrive for another few months, it's already shaping up to be Miley's biggest album ever — and here's why.
Ever since Miley dropped her breakup anthem "Flowers" on Jan. 13, the single has been everywhere. It went viral on TikTok after fans began speculating the song's lyrics include a number of Easter eggs toward her and Hemsworth's marriage. The theories became so widespread that even Miley's sister, Brandi Cyrus, caught wind of them and admitted they were "genius."
While the success of "Flowers" is definitely a big sign Endless Summer Vacation will be huge, it's not the only reason. Here are seven signs that tease the album will be Miley's biggest one yet.
1. Endless Summer Vacation Will End Miley's Music Drought
Over the past three years, Miley has hopped on songs by The Kid Laroi and Lil Nas X and has even released a few cover tracks, but "Flowers" is her first solo endeavor in a while. Her musical hiatus has naturally made everyone eager to hear what else she has to offer on Endless Summer Vacation, which will mark her first album since the release of Plastic Hearts in November 2020. So, what can fans expect when Miley's new album arrives? They'll just have to wait until March 10 to find out.
2. "Flowers" Helped Miley Achieve A Major Career Milestone
Miley has had many hits over the years but "Flowers" is her first single to debut at No. 1 on the Billboard Hot 100. Not even "Wrecking Ball," which is considered Miley's most successful single, achieved the feat right away. In fact, it took "Wrecking Ball" four weeks to finally hit No. 1.
3. "Flowers" Beat A Historic Record Previously Held By Adele
According to Guinness World Records, "Flowers" has become the most-streamed track on Spotify in one week with over 96 million streams. Previously, Adele's "Easy On Me" held the title with nearly 85 million streams. Considering Adele is a queen when it comes to streaming, "Flowers" surpassing "Easy On Me" is huge.
4. Miley Collaborated With Her Bangerz Producer On Endless Summer Vacation
Miley's fourth studio album, Bangerz, had so many, well, bangers, including "Wrecking Ball," "We Can't Stop," and "Adore You." According to People, Miley brought back her album's producer Mike WiLL Made-It to work on Endless Summer Vacation, so it's safe to say she's got another hit album on her hands.
5. Endless Summer Vacation Might See Miley Return To Pure Pop Music
Miley's previous album, Plastic Hearts, saw her experimenting with rock music. Before that, she focused on country-pop with Younger Now and psychedelic pop with Miley Cyrus & Her Dead Petz. Judging by the upbeat, groovy sound of "Flowers," Endless Summer Vacation could mark the return of Miley's radio-friendly pop hits. If so, "Flowers" might just be the beginning of Miley's 2023 takeover.
6. Miley's Focus On Self-Love
"Flowers" is full of inspiring lyrics. Throughout the song, Miley shades an ex-lover by telling them that she's better off on her own. "I can buy myself flowers/ Write my name in the sand/ Talk to myself for hours/ Say things you don't understand," she sings during the chorus. "I can take myself dancing and I can hold my own hand/ Yeah, I can love me better than you can."
The lyrics directly mirror Bruno Mars' 2012 single "When I Was Your Man," which is about a guy who realized he didn't appreciate his partner enough until it was too late. The fact that Miley turned the song around to make it an empowering breakup anthem is everything.
7. Speculation Surrounding The Rest Of Endless Summer Vacation
There's no doubt all the TikTok theories surrounding "Flowers" helped the song gain traction. But what will the rest of the album be about? Over the past few years, Miley has gone through a few public breakups. After her split from Hemsworth in August 2019, she was romantically linked with Kaitlynn Carter and Cody Simpson. Currently, she's reportedly dating musician Maxx Morando. Due to her recent dating history, Miley could sneak in a few Easter eggs about her relationships when the album drops on March 10.