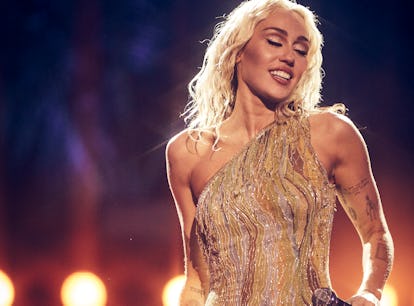 Miley Cyrus' New Album Will Kick Off Summer Super Early
She isn't waiting until summer to drop it.
NBC/NBCUniversal/Getty Images
After nearly three years since her last studio album, Miley Cyrus is gearing up to release her next record, and she's already got summer on her mind. On Jan. 5, the "Prisoner" singer announced that her eighth studio album, Endless Summer Vacation, is coming soon. Luckily, fans won't have to wait for summer to actually listen to it because Cyrus will kick off her new era on March 10.
The star made the exciting announcement on Instagram, where she posted a minute-long teaser for her upcoming album. In the clip, Cyrus is seen lounging in a pool while wearing a black body suit, dark sunglasses, and red lipstick. The video also features glimpses of a helicopter and palm trees and uses a vintage filter and shaky camera movement to make it look like old footage. Cyrus' narration about a past summer only adds to the nostalgic feel.
"We met each other on the neon dingy, past the manta rays and palm trees," Cyrus begins. "Glowing creatures beamed down from great heights. Electric eels and red venom. In the sky, we could see the riders on horseback. On comets. Coming toward us, kicking up with laughter. My friend, Big Twitchy, rode the boat to the light. Surfed the north break. We danced until there was nothing left. Just me and Twitchy, 'cause that's all we knew."
Cyrus followed up the teaser by unveiling her album's official cover art, which shows her hanging from a trapeze bar.
Cyrus' album announcement comes just days after she hosted her second annual Miley's New Year's Eve Party on Dec. 31. During the broadcast, Cyrus surprised fans by performing a new song called "You." As if that wasn't exciting enough, she also announced that her new single "Flowers" will arrive on Jan. 13.
According to People, Cyrus recorded her latest album with the help of her Bangerz producers Mike WiLL Made-It and Tyler Johnson, as well as other top producers like Kid Harpoon and Greg Kurstin. The publication also reports that Endless Summer Vacation is described as a "love letter to L.A." and is meant to dive into Cyrus' "journey toward building both physical and emotional strength."
In a teaser video for "Flowers," Cyrus teased the theme behind her album by sharing a snippet of her song's chorus, which is all about self love. "Can love me better/ I can love me better, baby," she sang during the video.
On Jan. 4, she teased her upcoming single on Twitter by posting lyrics like "I can buy myself flowers" and "I can hold my own hand."
Endless Summer Vacation will mark Cyrus' first album since she dropped her seventh studio record, Plastic Hearts, in November 2020.