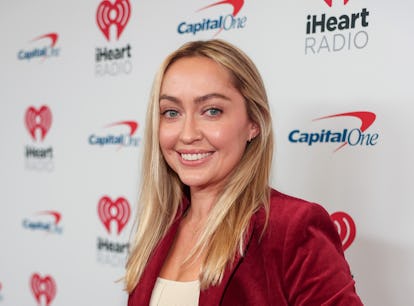 Miley's Sister Brandi Got Real About Liam's Connection To "Flowers"
"Only Miley knows the truth."
Christopher Polk/Variety/Getty Images
Brandi Cyrus is totally aware of the theories surrounding her sister Miley Cyrus' new single "Flowers." During the latest episode of her Your Favorite Things podcast with Wells Adams, the star said she's come across TikToks that dissect the song's rumored Easter eggs, which are supposedly about Miley's ex-husband, Liam Hemsworth. And guess what? She can't get enough of the tea, either.
The DJ admitted that all of the "narratives" fans have created around the song are "so entertaining." When her co-host remarked that it was "beautifully petty" of Miley to drop the breakup anthem on Hemsworth's 33rd birthday, Brandi said she couldn't tell whether that was a deliberate move made by Miley. "The song did come out on his birthday," she said. "Was that on purpose? I don't know. Can't say. Genius, though."
Brandi continued by saying she "loves" her sister's fans because "they go hard" when it comes to creating theories. "The fans on TikTok just keep creating narrative after narrative and it's so funny," she said. "It makes Miley seem like an absolute genius, and it's just too good. Like, every day I wake up to a new [theory]."
She said one of the theories she saw about "Flowers" was that Miley chose to sample Bruno Mars' 2012 single "When I Was Your Man," and it all had to do with Hemsworth. "They're like, 'Liam played the Bruno Mars song at their wedding, and this is a response to the Bruno Mars song,'" she said. "That one's funny."
Brandi is also aware of the theory that the suit Miley wears in the "Flowers" music video is the same one Hemsworth wore at the 2019 Avengers: Endgame premiere, where the actor supposedly told Miley "that she needed to behave for once."
"Then the other [theory] was, 'The house [in the music video] is the house where Liam used to take people [to] cheat on her with,'" Brandi added. "The narratives are f*cking hilarious, but it's so great. It's the best PR that could ever happen because it gets people talking about the song on TikTok and it's everywhere."
That said, Brandi refused to confirm or deny any of the theories. "I'm not here to say what's true and what's not true," she said. "I'm letting this play out. It's a first-hand experience situation. Only Miley knows the truth."
Listen to Brandi's Your Favorite Things podcast with Adams below.