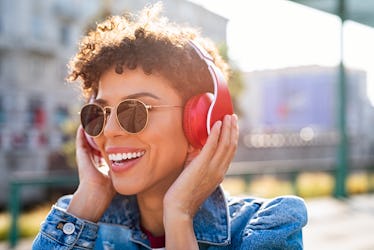 10 Songs About Moving On That You Totally Need To Hear After A Breakup
Shutterstock
After a relationship ends, there are a number of stages that you may go through on your journey to healing. Fortunately, beyond the stage where you want to hide under your blankets with a bottle of Malbec and a box of Girl Scout Cookies, and the stage where you carefully craft ways to get revenge on your ex, there is a place of acceptance and growth. And the many songs about moving on after a breakup can serve as stellar inspiration for arriving at this peaceful place.
The truth is, there is no one "right" path to moving on. For some, it requires making self-love a priority, by way of saying affirmations or other similar strategies. Others may need to seek therapy or journal about the breakup to work through their emotions and gain a new perspective on how this event could be a positive thing. And for many people, it's a matter of unfollowing their ex on social media and surrounding themselves with loved ones.
However you choose to get there, remember that there is a light at the end of the tunnel — an endlessly exciting phase where you can finally envision life beyond your ex, and rediscover who you are outside of that relationship. And when you need a little reminder of that light, queue up these super motivating songs ASAP.