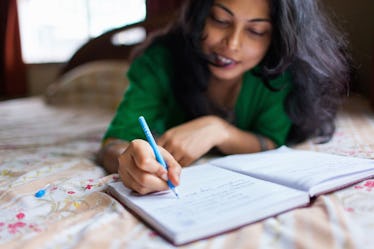 This 1 Simple Habit Can Help You Feel So Much Better After A Breakup
Post-breakup emotions can be super overwhelming. It can be hard to focus or think clearly when you're feeling so much at once. If you're looking for a way to process these emotions, and feel like yourself again, you might want to try journaling. At first you, might wonder if journaling helps after a breakup. But according to Elle Huerta, breakup expert and founder of the breakup app Mend, it does.You may just have to stick with it for a bit. Huerta says, "Research shows that regularly reflecting on how you're coping with your breakup in a structured way reduces post-breakup loneliness and distress because it helps you redefine your sense of self." She stresses that regularly journaling about your breakup for set amounts of time can really help your healing.
"It's also a really great way to practice letting go," Huerta says, "and release the thoughts and emotions that have built up during a breakup." Another study shows that writing specifically about your breakup is the most healing way to journal. Huerta recommends journaling specifically about your split because writing helps you process emotions and get clarity on your thoughts. When you experience complicated feelings, it can be hard to pull apart all of the different thoughts you might have about what you're going through. By sitting down to journal, you are taking the time to slow your mind down, and really think slowly about different aspects of your current experience.
If you don't know where to start, don't worry! Huerta has provided helpful guidelines for journaling so that you can make it a habit that helps you heal.