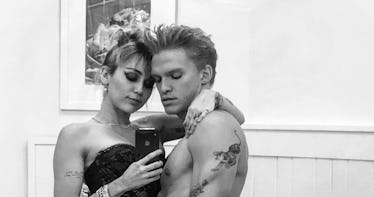 Miley & Cody's Relationship Timeline Is The Opposite Of Her & Liam's
Is anyone else still recovering from the shock of Miley Cyrus and Cody Simpson's breakup? Though the two were only together for 10 months, it feels like they dated for 10 years, considering how much went down during that time. Miley Cyrus and Cody Simpson's relationship timeline is a total whirlwind, filled with love poems, matching tattoos, TikTok dances, and racy mirror selfies, but — according to Cyrus — she and Simpson felt it was time to slide away. "...for right now, two halves can't make a whole, and we're individually just working on ourselves to become the people that we wanna be," she said during an IG Live on Aug. 13, and IMO, that's the maturest response to a breakup ever.
The exes were friends long before they started dating, and Simpson thought they worked so well together because of their shared values. "We keep each other in a good place," the Aussie singer said during a October 2019 appearance on The Kyle and Jackie O Show. "That's what's really healthy about it, and I think that's the first time I've had that in a relationship. We're very, very much on the same page." It's unclear whether they were on the same page about their breakup, but here's what I do know about their 10-month romance.