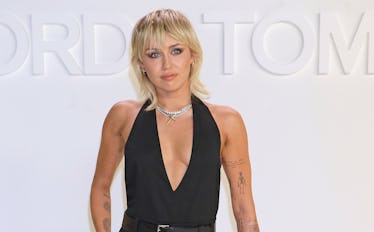 Watch Miley Freak Out Over The Love Poem Cody Wrote For Her
David M. Benett/Getty Images Entertainment/Getty Images
Wondering whether Miley Cyrus and Cody Simpson are still a thing? Well, friends, I'm happy to report that they are indeed. In other news that I learned today, Simpson has a book of poetry, entitled Prince Neptune, coming out on April 7, and one of the poems in the collection was written about Cyrus. Um, cute alert? On April 2 (a day after their six-month anniversary), the Aussie singer debuted the ode to his GF on Cyrus' Instagram Live show Bright Minded, and let me just tell you, Cody Simpson's poem about Miley Cyrus is seriously swoon-worthy. Despite claiming she's "not good with mush," Cyrus seemed just as taken by the poem as I was.
During the episode, special guests Simpson and Riverdale's Lili Reinhart chatted with Cyrus about the challenges of writing poetry during the coronavirus outbreak. After Reinhart read a few of her love poems (no doubt about her longtime BF Cole Sprouse), Simpson worked up the courage to share his own love poem. "So basically... one of the poems in this book is about Miley," Simpson told viewers. "I'm going to read it for you right now." And after an ill-timed technical error, Simpson began reading, and guys, I'm blushing.
"In the ancient night, she flies once more back to her home in the stars," he read. "I try to chase her there but fall short because I cannot breathe up that high in the radiant heavens where she lingers. I can only admire her from below, humble, starry-eyed poet with the desire for that which is most beautiful. And she is most beautiful. All other sleep in winter forests, but she is the one who swims in the sun and doesn't burn up." All the finger snaps!
Cyrus, predictably, was pretty blown away. "Babe!" she gushed. "I'm freaked! I'm the most beautiful?" And of course, he answered her question with, "You're the most beautiful, babe." After exchanging I-love-you's, Simpson abruptly blipped off the screen, which Cyrus seemed to appreciate. "He's the only one who's hung up on me first," she joked. "This is why I'm into this guy. You know? That's what I need."
This isn't the first time Cyrus has inspired Simpson's work. Back in October, soon after they started dating, Simpson released a single entitled "Golden Thing," which also paid tribute to his boo. As Simpson explained during an interview with People, he originally wrote the song to help Cyrus recover from vocal chord surgery, and she encouraged him to release it to the public. In the song, he sings, "Crystal dream, Cali queen, radiant hand, vibrant sand, I'm shot, it's a golden thing she's got," so it was pretty clear even then that Miley is his muse.
I'm not going to lie — I was skeptical about these two at first, especially considering how quickly Cyrus moved on from dating Kaitlynn Carter to dating Simpson. But after listening to Simpson's poem, I'm feeling pretty convinced that what these two have is golden.