You Came In Wearing A Football Helmet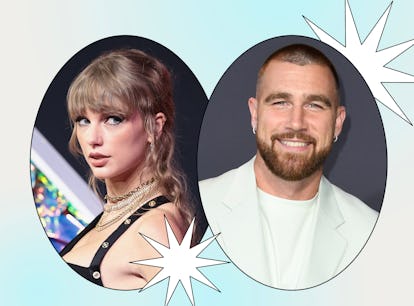 Travis Kelce Finally Responded To Those Taylor Swift Romance Rumors
"I threw the ball in her court."
Things are looking up for Taylor Swift and Travis Kelce. ICYMI, on Sept. 12, the Messenger reported that Taylor and Travis were "hanging out," two months after the Chiefs player made his crush on the "Karma" singer public. (Travis discussed Taylor on his podcast with brother Jason in July, explaining how he wanted to meet her at the Eras Tour in Kansas City.) On Sept. 13, a source told Entertainment Tonight that the duo are not officially dating, but it does sound like Travis, at least, is open to seeing things through.
"It's hilarious how much traction this has actually gotten, right now it's like a game of telephone," Travis said on The Pat McAfee Show on Sept. 21, per E!. "No one actually knows what's going on, especially when you got Jason Kelce on live television telling people both sides — he doesn't know, it's true, this and that." (More on Jason's commentary later.)
Travis added, "I threw it out there, I threw the ball in her court... I told her, you know, I've seen you rock the stage in Arrowhead [Stadium], you might have to come see me rock the stage in Arrowhead and see which one's a little more lit. So, we'll see what happens in the near future."
Swift hasn't commented on the rumors directly, but sources have done so for her. "She thinks he is very charming, and they have been texting this last week. He is a little embarrassed at how much attention they are getting, but he has told her he would love to continue seeing her," an insider told the Messenger, before adding, "She and Travis have hung out twice, and it's nothing serious." Apparently, they're just "seeing where things go."
At least one person is convinced they're together: Travis' brother Jason. On Sept. 20, Jason admitted on the WIP Morning Show that he didn't know "what's happening with Travis' love life," but had his own theories. Per Page Six, Jason considered himself "out of that world" — that world being Travis' romantic life. However, he followed up with, "Having said that, I think they're doing great and I think it's all 100 percent true."
Jason previously discussed the Travis and Taylor romance rumors during a post-game interview on Sept. 14. At the time, he didn't reveal much. "I cannot comment on the rumors," he said. "Ever since Catching Kelce, everyone's been infatuated with Travis' love life. I don't really know what's going on there. I know Travis is having fun and we'll see what happens with whoever he's dating."
Jason might be keeping it somewhat coy, but other sources have opened up about the reported romance. "Travis has been into Taylor for a while and definitely has a crush on her," an insider told ET in September. "He is a simple guy that is very funny, charismatic, chill, and loves playing football." He hasn't been shy about his soft spot for Taylor, either.
A little catchup: In a July episode of his New Heights podcast, Travis recalled to Jason how he lost his chance with Taylor during her tour. "I was disappointed that she doesn't talk before or after her shows because she has to save her voice for the 44 songs that she sings," he explained. "So I was a little butthurt I didn't get to hand her one of the bracelets I made for her." That bracelet had his number on it. He added, "She doesn't meet anybody, or at least she didn't want to meet me, so I took it personal."
Following dating rumors, a 2016 video of Travis talking about kissing Taylor went viral. When AfterBuzz TV asked him to play a game of Kiss, Marry, Kill, Travis responded, "Damn, that's messed up. I don't want to kill any of them." He eventually answered, "Kill is Ariana. Sorry, love you, but you're gone. And then Taylor Swift would be the kiss. And what's the last one? Katy Perry? Yeah, Katy Perry would be the marry."
Based on The Messenger report, it sounds like that missed meet-cute at the Eras Tour was only the beginning of their story. "Taylor and Travis have been quietly hanging out," a source claimed to the outlet. "She saw him when she was in NYC a few weeks ago."
Fans on TikTok immediately started digging more into these rumors, uncovering a few videos that have Taylor-Travis shippers convinced something's going on. On Sept. 1, another episode of Travis' podcast mentioned Taylor — though this time, he played it coy. "We're not gonna bring up Taylor Swift in this episode," Travis said, after Jason jokingly asked what the singer thought of the Chiefs player's new mustache. Then, on Sept. 6, Travis wore a John Mayer T-shirt to record the podcast... could he potentially be shading Taylor's ex?
Then again, it sounds like the duo is keeping things casual for now, if they really are seeing each other at all. As one fan on Twitter jokingly pointed out, it was Tay herself who once sang, "But in your life you'll do things / Greater than dating the boy on the football team."
This article was originally published on