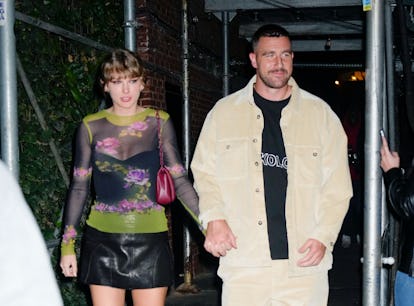 Taylor's Actually Been Describing Travis In Her Lyrics All This Time
She didn't even know it, but all her songs have been about him.
Gotham/GC Images/Getty Images
By now, Swifties are masters at decoding Taylor Swift's song lyrics. Most of her biggest songs are inspired by meaningful relationships in her life, and longtime listeners have been able to piece together who each line is referring to. But with her new boyfriend Travis Kelce, things are a bit different. Fans have started to notice that so many of Swift's older song lyrics seem to be perfectly describing Kelce as her dream man. Was this relationship fated all along?
Ever since the rumors about Swift and Kelce dating first started in September, fans have been dissecting every tiny detail about their relationship. And a lot of the similarities between Swift and Kelce have fully convinced people that they are simply meant to be together. Everything from numerology to astrology seems to confirm they're a perfect match, but what's really won Swifties over is revisiting some lyrics that feel like they predicted the future now.
A surprising number of Swift's songs contain references that feel like they were written specifically about Kelce. Call it maniswiftation, because it really does sound like Swift's been singing about her perfect relationship with Kelce all these years.
Here are the lyrics that specifically stand at as so Kelce-coded.
1. "As if the street lights pointed in an arrowhead leading us home" — "Cornelia Street"
Swift's first public appearance with Kelce was at Arrowhead Stadium, when she showed up at one of his home games there.
2. "I'll be 87, you'll be 89" — "Mary's Song"
Kelce's jersey number is 87, and one of Swift's albums is entitled 1989. Additionally, both Swift and Kelce were born in 1989.
3. "Get me with those green eyes, baby" — "Sparks Fly"
Kelce has green eyes.
4. "Think about the place where you first met me, ridin' in a getaway car" — "Getaway Car"
The first time Swift and Kelce appeared publicly together, they were photographed driving off in a convertible together.
5. "I've been the archer" — "The Archer"
One of Kelce's signature moves is to pretend to shoot a bow and arrow into the crowd.
6. "Knew he was a killer, first time that I saw him" — "...Ready For It?"
Kelce's nickname is Killa Trav. It's also his Instagram handle.
7. "In your life you'll do things greater than dating the boy on the football team" — "Fifteen"
Swift is finally dating the boy on the football team, but also doing even greater things as her Eras Tour continues to take over the world and smash box office records in theaters.
8. "That's when you came in wearing a football helmet" — "Stay Stay Stay"
Obviously, Kelce is wearing a football helmet pretty often.
9. "Oh, you and me, we got big reputations" — "End Game"
Swifties have been confused about who "End Game" could be about for years. It was written when Swift had started dating her ex Joe Alwyn, but its lyrics didn't seem to describe him. However, they fit Kelce perfectly, since he also had a "big reputation" even before dating Swift.
10. "He's so tall and handsome as hell" — "Wildest Dreams"
Kelce is 6'5", making him the tallest person Swift has ever dated.
11. "Everybody wants you / Everybody wonders what it would be like to love you" — "Gold Rush"
Kelce dated dozens of women who were competing to be his girlfriend on his 2016 dating show Catching Kelce. At another point in "Gold Rush," Swift mentions her Philadelphia Eagles T-shirt. Kelce's brother, Jason Kelce, plays for the Eagles.
12. "Like you were a trophy or a champion ring" — "Willow"
Kelce has two Super Bowl championship rings, and has carried the Vince Lombardi Trophy after the Kansas City Chiefs won the big game in both 2020 and 2023.
13. "I'm on the bleachers" — "You Belong With Me"
Swift is still on the bleachers, but it's not a bad thing any more. Now the guy she belongs with is looking at her, not the cheer captain.
14. "The crowds in the stands went wild / We were the kings and the queens" — "Long Live"
Since Swift started appearing at Kelce's games, interest in the NFL has skyrocketed. Crowds go wild whenever Swift is shown in the stands.
15. "Loving him was red" — "Red"
Kelce's Kansas City Chiefs uniform is red, one of Swift's favorite colors.
16. "So make the friendship bracelets" — "You're On Your Own, Kid"
Before they started dating, Kelce attended Swift's Eras Tour and revealed he had made a friendship bracelet he wanted to give to her, but was unable to.
17. "You stand with your hand on my waistline / It's a scene, and we're out here in plain sight" — "I Know Places"
After Swift and Kelce made their surprise SNL appearances together, they were photographed walking into the afterparty and then grabbing dinner in the city the next day. Fans fawned over their body language, as Kelce always seemed to have his arm wrapped around Swift.
18. "Karma is the guy on the screen / Coming straight home to me" — "Karma"
Kelce is no stranger to being on screen, not just as an NFL star but also as a media personality.
19. "'Cause you know I love the players / And you love the game" — "Blank Space"
Swift said it herself: she loves the players!