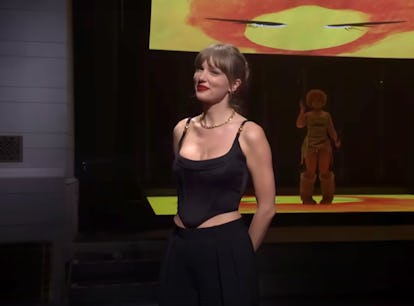 Taylor & Travis Crashed SNL Last-Minute & Wound Up Stealing The Show
Apparently, nobody knew they were coming!
NBC
Pete Davidson and Ice Spice weren't the only superstars to kick off Season 49 of Saturday Night Live on Oct. 14. Throughout the show, viewers were treated to unexpected appearances by the "it" couple of the moment, but it wasn't only the TV audience that was surprised by Taylor Swift and Travis Kelce's SNL cameos. It turns out even the SNL cast and crew had no idea Swift and Kelce were going to be there... until they suddenly showed up at the very last minute.
"No one knew they were coming, and they contacted a few minutes before arrival at air time," a source told Variety, revealing the production team learned the supercouple was showing up just moments before live filming was going to begin.
But of course, SNL had to take advantage of this last-minute spotlight, no matter how sudden it was. The team asked Kelce to appear in the first sketch of the night, which was coincidentally all about the NFL's new obsession with his relationship with Swift. The football star was reportedly "happy to join."
So, Kelce popped up at the very end of the sketch. After an NFL commentator exhausted of all the Taylor Swift talk bemoaned that he wanted to "speak with someone who actually wants to talk football," Kelce voiced his agreement: "Yes, please!"
Later in the show, Swift also made an unplanned appearance to introduce her new bestie Ice Spice. Swift introduced the musical guest for her second performance of the night, which was the live debut of her just-released single "Pretty Girl."
And Traylor wasn't done stealing the show just yet. All eyes remained on the new couple when they showed up at the SNL after-party arm-in-arm. Reports from the party claim that Swift and Kelce were not shy about their PDA at the event.
Variety's insiders said Kelce hugged and joked around with a lot of the SNL cast and crew, which makes sense given that he just hosted the show earlier this year. Swift reportedly hung out with Ice Spice for much of the night, when she wasn't making memories with her new boo, of course.