Baby, Let The Games Begin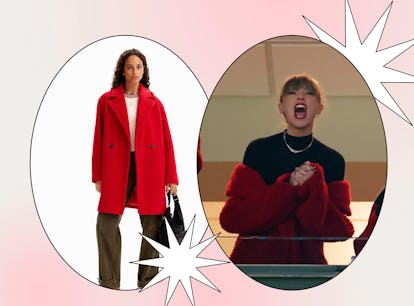 What To Wear To Watch Football, Inspired By Taylor Swift's Chiefs 'Fits
For when you love the players and the... well, you get it.
Desigual/Stacy Revere/Getty Images Sport/Getty Images/Elite Daily
We may receive a portion of sales if you purchase a product through a link in this article.
The NFL has already found its MVP for the season — Taylor Swift. From football fans to Swifties, everyone is talking about Swift and her romance with Kansas City Chiefs' Travis Kelce. The "...Ready For It?" singer has garnered attention for showing up to a few of his games, and doing it in style. Would you expect anything less from the fashion icon known for "that red lip classic thing" that everyone likes? So, taking inspo from Taylor Swift's outfits, here's what to wear to watch football at home or at a game.
With some time off from her Eras Tour schedule, Swift has been able to cheer on Kelce from VIP suites at some of his September, October, and December games. And at each event, she's totally slayed the blokette style of sporty elements with girly details like a bejeweled moment. At the same time, fans have become obsessed with Swift's football style because of how normal and attainable it is. Sure, the brands Swift shops at match her luxe lifestyle, but you most likely have a white tank top and pair of denim shorts in your closet right now, which means you're one step closer to having a dupe 'fit to wear.
All you need to complete your Swift-inspired look is to throw on her signature red lipstick, add in some football apparel, and wear your favorite jewelry — including those friendship bracelets you made for the tour. Of course, you could also build a OOTD from scratch. To help you find an outfit to wear to your next football game, here are some budget-friendly ideas inspired by actual items Taylor Swift has worn at the Chiefs games.
A Dupe For Taylor Swift's Kansas City Chiefs Outfit
For both new and diehard fans of Kansas City, you'll want to replicate Swift's outfit from the Chiefs versus the Chicago Bears game. Seated next to Kelce's mom, Donna Kelce, Swift wore team colors red, white, and gold throughout her look. The main character of her outfit was the vintage Chiefs windbreaker from New Era Cap, which you can find dupes of on the NFL's official merch site or Fanatics. While they may not be an exact match with the color blocking, you'll be fine as long as you stick to red or white.
Underneath the jacket, Swift kept it delicate with a cropped white tank featuring buttons down the middle and distressed denim shorts. While low-rise may be in right now, Swift is a fan of the high-waist look and it suits her long legs all too well. To bring in some golden elements, Swift accessorized her 'fit with crescent earrings, a gold choker, and a tan corduroy cap. She also kept it sporty with some white and red New Balance sneakers.
It's so simple to recreate this look with items in your budget. You could even color-coordinate with your team by finding a different windbreaker, opting for silver jewelry, or going with a tank in a more appropriate shade.
A Taylor Swift Outfit Dupe For A Reputation-Inspired Look
Swift has been alternating between blue and black 'fits recently, which fans believe are easter eggs to both 1989 (Taylor's Version) and reputation (Taylor's Version). For the Oct. 1 Kansas City Chiefs game, Swift went full reputation mode in a black long-sleeved top tucked into light-wash denim shorts with crystal details. She paired the simple yet chic 'fit with a leather jacket and Christian Louboutin boots. While heeled boots may not be as comfortable as New Balance sneakers for most people, Swift has become accustomed to dancing around in Louboutin shoes during her entire Eras Tour set.
To complete the look, Swift wore her bright red lipstick with a "cat eye sharp enough to kill a man" (or intimidate the rival team). She also sported layered gold necklaces with tiny gold hoops. The outfit is a perfect choice for anyone looking to stun without being too over-the-top.
A Taylor Swift Outfit Dupe For The Cheer Caption
Despite the game being the day after her Eras Tour movie premiere, Swift showed up at the Oct. 12 Kansas City Chiefs game against the Denver Broncos. Seated next to Kelce's mom, Swift wore another reputation-esque black 'fit, but with team colors mixed in. It was supportive, sexy, and channeled popular cheer captain rooting on her football star boyfriend.
For this look, Swift wore another Chiefs windbreaker, but this time, it was from Erin Andrews' WEAR collection. Just like at the first game, Swift styled her jacket off the shoulder, which gave major flirty vibes. This also allowed her black corset top to shine through. And instead of shorts, the "Blank Space" singer went with a black mini skirt that matched her military boots. With her hair in a ponytail, you could really see the golden accents that included her go-to chain necklace and hoop earrings as well.
A Taylor Swift Outfit Dupe For The Supportive Partner
When Kelce tried to shoot his shot with Swift at her Eras Tour show in Kansas City back in July, he brought a friendship bracelet with him that was made just for the 1989 singer. Instead of some song lyrics written out in beads, though, the tight end wrote his phone number. It was a slick move, but unfortunately, he wasn't able to hand it off to her after the concert. He did mention it on his podcast, New Heights, which must have gotten back to the singer — especially now that they're hanging out.
Not only have they been spotted going to Saturday Night Live after parties together, but Swift is now sporting a friendship bracelet with Kelce's number on it — but not his phone number. At the Chiefs game against the Los Angeles Chargers on Oct. 22, Swift had a golden friendship bracelet on her left wrist that spelled out Kelce's jersey number, 87. She paired the "You're on Your Own, Kid" accessory with a gold Cartier choker to coordinate in team colors with her Kansas City Chiefs sweatshirt, black pleated mini skirt, black loafers, and red lipstick.
A Taylor Swift Outfit For Snowy Football Games
Now that Swift is done touring for the year, she has more time to support her man and even travel to some of his away games. On Dec. 3, Swift showed up with fellow WAG and new bestie, Brittany Mahomes, to the Chiefs' game at the Green Bay Packers' Lambeau Field in Wisconsin. There was snow at the Chiefs game, so Swift made she she was ready for the weather in a red teddy coat from Stella McCartney.
Some fans believe Swift even borrowed the Chiefs-colored jacket from Mahomes to wear over her very reputation-inspired black 'fit of a sheer turtleneck, mini skirt, and thigh high boots. Whether it was Mahomes' coat or not, Swift was the perfect cheerleader for Kelce in a winter weather football outfit.
This article was originally published on