Condiments (Taylor's Version)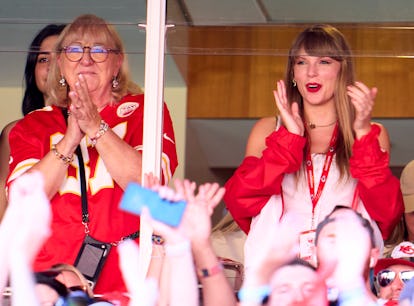 Donna Kelce Has Seen All Those Taylor Swift "Seemingly Ranch" Memes
Cooper Neill/Getty Images Sport/Getty Images
Sorry, 1989's sea blue — Taylor Swift is back in her red era. The singer has been giving her signature hue a lot of love lately, thanks to her rumored romance with Kansas City Chiefs' tight-end Travis Kelce. Ever since she first appeared at Kelce's game on Sept. 24, the duo have been Swifties' new obsession. Her fans are polishing up on their football jargon, making red jerseys the new black, and even turning Swift's condiment choices at the game into a cash-cow meme. While that last part sounds wild, it's all light-hearted fun for Kelce's mom.
So, what exactly is the "seemingly ranch" meme? During the Kansas City Chiefs' game against the Chicago Bears, Swift was spotted next to her new beau's mom, Donna Kelce, in the stands. While that sighting was exciting, it was a photo of the singer's plate of chicken tenders and two dipping sauces that sent everyone into a frenzy. The photo went viral after a fan shared it on Twitter and described one of the sauces as "seemingly ranch."
Swift's dipping choices not only spawned numerous memes online, but inspired Heinz to launch a limited-edition bottle of the condiment. OK, becoming the newly-cemented face of the NFL and dipping sauces in the span of a month? This definitely adds a new layer to "Two Is Better Than One."
It wasn't long until Donna Kelce joined in on the "seemingly ranch" fun. On Oct. 1, she sat next to Jake from State Farm actor, Kevin Miles, at Kansas City Chiefs' game against the New York Jets. Similar to Swift, Miles enjoyed a basket of chicken fingers with ketchup — but no ranch. Kelce shared the amusing moment on her Stories, writing: "No 'seemingly ranch' available at the Linc."
Miles also poked fun at the interaction with his own Swift reference. That same day, the actor shared a photo of him "in his red era" with Donna on Twitter.
From popularizing the wildest condiment combo to stamping red as the go-to shade for the fall, Swift and Kelce's unofficial relationship is already setting all the trends.