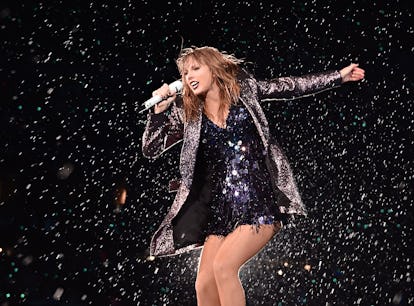 Midnights Is Great, But These Iconic Red Lyrics Are Perfect For Dancing
John Shearer/TAS18/Getty Images Entertainment/Getty Images
Can you believe that Midnights is Taylor Swift's 10th album? The singer has repeatedly released hit after hit since 2006. Based on the history-making success of her latest record, she likely won't be stopping anytime soon. To celebrate everything she's achieved all these years, take a trip down memory lane by revisiting some of her best lyrics off another of her most critically acclaimed albums: her fourth studio album, Red.
Swift notably re-released the album last year. In June 2021, Swift issued a lengthy letter about the Red re-release and revealed the original record helped her as much as it helped fans.
"I'm not sure if it was pouring my thoughts into this album, hearing thousands of your voices sing the lyrics back to me in passionate solidarity, or if it was simply time, but something was healed along the way," she said.
The themes on Red — disappointment, self-degradation, finding your self-worth, and shaking off the negativity — remain timeless. So, to celebrate one of Swift's best albums, take a look back at 50 of the best lyrics from Red and the Red re-release, two albums perfect for jamming out.
"We fall in love 'til it hurts or bleeds, or fades in time." — "State of Grace"
"So you were never a saint, and I loved in shades of wrong." — "State of Grace"
"Forgetting him was like trying to know somebody you never met." — "Red"
"Memorizing him was as easy as knowing all the words to your old favorite song." — "Red"
"I can't decide if it's a choice, getting swept away." — "Treacherous"
"Your name has echoed through my mind, and I just think you should, think you should know that nothing safe is worth the drive." — "Treacherous"
"I guess you didn't care, and I guess I liked that." — "I Knew You Were Trouble"
"And when I fell hard, you took a step back." — "I Knew You Were Trouble"
"And you call me up again just to break me like a promise, so casually cruel in the name of being honest." — "All Too Well"
"Time won't fly, it's like I'm paralyzed by it. I'd like to be my old self again, but I'm still trying to find it." — "All Too Well"
"They say all's well that ends well, but I'm in a new hell." — "All Too Well (10 Minute Version)"
"It feels like a perfect night to dress up like hipsters and make fun of our exes." — "22"
"We're happy, free, confused, and lonely at the same time." — "22"
"And I just wanna tell you, it takes everything in me not to call you." — "I Almost Do"
"I wish I could run to you, and I hope you know that every time I don't, I almost do." — "I Almost Do"
"We hadn't seen each other in a month when you said you needed space. (What?)" — "We Are Never Ever Getting Back Together"
"I'm really gonna miss you picking fights, and me falling for it, screaming that I'm right." — "We Are Never Ever Getting Back Together"
"This morning, I said we should talk about it, 'cause I read you should never leave a fight unresolved." — "Stay Stay Stay"
"I love you because you have given me no choice but to." — "Stay Stay Stay"
"I find myself at your door just like all those times before." — "The Last Time"
"You wear your best apology, but I was there to watch you leave." — "The Last Time"
"Spinning like a girl in a brand new dress, we had this big wide city all to ourselves." — "Holy Ground"
"Tonight I'm gonna dance like you were in this room." — "Holy Ground"
"Words, how little they mean when you're a little too late." — "Sad Beautiful Tragic"
"Good girls, hopeful they'll be and long they will wait." — "Sad Beautiful Tragic"
"Everybody loves pretty, everybody loves cool." — "The Lucky One"
"They tell you that you're lucky but you're so confused, 'cause you don't feel pretty, you just feel used." — "The Lucky One"
"All I've seen since 18 hours ago is green eyes and freckles and your smile." — "Everything Has Changed"
"All I feel in my stomach is butterflies, the beautiful kind, makin' up for lost time." — "Everything Has Changed"
"It was the best night, never would forget how we moved." — "Starlight"
"And we were dancing, dancing, like we're made of starlight, starlight." — "Starlight"
"You pull my chair out and help me in, and you don't know how nice that is." — "Begin Again"
"And for the first time, what's past is past." — "Begin Again"
"It was like slow motion, standing there in my party dress in red lipstick with no one to impress." — "The Moment I Knew"
"This is falling in love in the cruelest way. This is falling for you when you are worlds away." — "Come Back...Be Here"
"Honey, I am no one's exception." — "Girl At Home"
"What if I really thought some miracle would see us through? What if the miracle was even getting one moment with you?" — "Ronan"
"I know the bravest thing I ever did was run." — "Better Man"
"Lord, what will become of me once I've lost my novelty?" — "Nothing New"
"How can a person know everythin' at 18 but nothin' at 22?" — "Nothing New"
"This is the last time I'll ever call you, babe." — "Babe"
"A message in a bottle is all I can do, standin' here, hopin' it gets to you." — "Message In A Bottle"
"'Cause you could be the one that I love. I could be the one that you dream of." — "Message In A Bottle"
"But now that we're done and it's over, I bet you couldn't believe when you realized I'm harder to forget than I was to leave." — "I Bet You Think About Me"
"I don't have to be your shrink to know that you'll never be happy and I bet you think about me." — "I Bet You Think About Me"
"I'll be summer sun for you forever, forever winter if you go."— "Forever Winter"
"I'd drive away before I let you go, so give me a reason and don't say no." — "Run"
"There's a heart on your sleeve. I'll take it when I leave." — "Run"
"I wish I could fly. I'd pick you up and we'd go back in time." — "The Very First Night"
"I drive down different roads but they all lead back to you." — "The Very First Night"
This article was originally published on