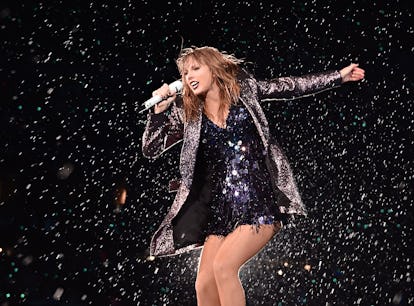 30 Taylor Swift Red Lyrics To Sing At The Top Of Your Lungs
I 100% consider these words to live by.
John Shearer/TAS18/Getty Images Entertainment/Getty Images
Since releasing her self-titled debut album in October 2006 at the ripe age of 16, Taylor Swift has made a name for herself as a shrewd songwriter, a talented singer, and regular girl fans can relate to. For the past 15 years in the limelight, she's released album after album filled with songs about breaking up, making up, and growing up. With the Nov. 12 release of Swift's second re-recorded album, Red (Taylor's Version), there's no better way to celebrate this superstar's way with words than to look back on some of her most memorable lyrics.
If you're a Swiftie like I am, her lyrics have gotten you through the good and bad, and they remain rent-free in your head at all times. From heartbreaking ballads about disappointment and self-degradation to upbeat dance songs about finding your self-worth and shaking off the negativity, Swift's lyrics — especially those from Red — will live on for decades to come. Fans couldn't wait to hear Red (Taylor's Version) as soon as she announced it in June 2021, and the excitement ramped up when she teased the "All Too Well" short film in early November.
Over the summer, Swift explained the inspiration behind the original (and updated) Red release. "Musically and lyrically, Red resembled a heartbroken person. It was all over the place, a fractured mosaic of feelings that somehow all fit together in the end," she wrote in a statement. "Happy, free, confused, lonely, devastated, euphoric, wild, and tortured by memories past…And I'm not sure if it was pouring my thoughts into this album, hearing thousands of your voices sing the lyrics back to me in passionate solidarity, or if it was simply time, but something was healed along the way."
While Red (Taylor's Version) just might have slight variations to the original lyrics (isn't that the best part?), nothing beats the source material. Here are 30 of the best OG Taylor Swift Red lyrics to jam out to.
"And you call me up again just to break me like a promise, so casually cruel in the name of being honest." — "All Too Well"
"Forgetting him is like trying to know somebody you never met." — "Red"
"Your name has echoed through my mind, and I just think you should know that nothing safe is worth the drive." — "Treacherous"
"We fall in love 'til it hurts or bleeds, or fades in time." — "State of Grace"
"Time won't fly, it's like I'm paralyzed by it, I'd like to be my old self again, but I'm still trying to find it." — "All Too Well"
"I guess you didn't care, and I guess I liked that." — "I Knew You Were Trouble"
"Memorizing him was as easy as knowing all the words to your old favorite song." — "Red"
"We're happy, free, confused and lonely at the same time." — "22"
"And I just wanna tell you, it takes everything in me not to call you." — "I Almost Do"
"So you were never a saint, and I've loved in shades of wrong." — "State of Grace"
"I can't decide if it's a choice, getting swept away." — "Treacherous"
"We hadn't seen each other in a month when you said you needed space, what?" — "We Are Never Getting Back Together"
"This morning I said we should talk about it, 'cause I read you should never leave a fight unresolved." — "Stay Stay Stay"
"And when I fell hard, you took a step back." — "I Knew You Were Trouble"
"Find myself at your door just like all those times before." — "The Last Time"
"It feels like a perfect night to dress up like hipsters and make fun of our exes." — "22"
"Spinning like a girl in a brand new dress, we had this big wide city all to ourselves." — "Holy Ground"
"Words, how little they mean when you're a little too late." — "Sad Beautiful Tragic"
"They tell you that you're lucky but you're so confused, 'cause you don't feel pretty, you just feel used." — "The Lucky One"
"All I've seen since eighteen hours ago is green eyes and freckles and your smile." — "Everything Has Changed"
"I wish I could run to you, and I hope you know that every time I don't, I almost do." — "I Almost Do"
"It was the best night, never would forget how we moved." — "Starlight"
"You pull my chair out and help me in, and you don't know how nice that is." — "Begin Again"
"I'm really gonna miss you picking fights, and me falling for it, screaming that I'm right." — "We Are Never Getting Back Together"
"Good girls, hopeful they'll be and long they will wait." — "Sad Beautiful Tragic"
"You wear your best apology, but I was there to watch you leave." — "The Last Time"
"All I feel in my stomach is butterflies, the beautiful kind, making up for lost time." — "Everything Has Changed"
"I love you, because you have given me no choice but to." — "Stay Stay Stay"
"Everybody loves pretty, everybody loves cool." — "The Lucky One"
"And for the first time, what's past is past." — "Begin Again"