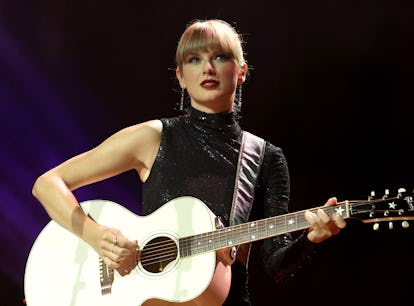 Taylor Swift's Latest Midnights Track Reveal Featured This Furry Guest Star
Terry Wyatt/Getty Images Entertainment/Getty Images
The 2022 MTV Video Music Awards ended in the best way. When Taylor Swift accepted her Video of the Year award for "All Too Well (10 Minute Version) (Taylor's Version)," she also announced her 10th studio album is coming. Although she didn't say the name of her project, she said more info would be revealed at midnight. Well, it turns out that was an easter egg because, when midnight arrived, Swift announced her next album is called Midnights.
"This is a collection of music written in the middle of the night, a journey through terrors and sweet dreams," Swift said in a statement on her website. "The floors we pace and the demons we face. For all of us who have tossed and turned and decided to keep the lanterns lit and go searching – hoping that just maybe, when the clock strikes twelve … we'll meet ourselves."
The singer has since revealed many exciting details about Midnights, including three special edition covers and a quirky new TikTok series to unveil the album's tracklist. Gear up for Swift's Midnights release by checking out all the must-know information below.
Midnights Release Date
Swift's 10th studio album will drop this fall. "Midnights, the stories of 13 sleepless nights scattered throughout my life, will be out October 21," the singer wrote on Instagram.
Midnights Tracklist
Swift has slowly revealed the Midnights tracklist through her new TikTok series, Midnights Mayhem With Me. In this playful series, Swift uses a "technologically advanced device," a.k.a. a bingo cage, to share the album's 13-song tracklist one at a time. (Of course, 13 is Swift's lucky number.) After picking a number, Swift then says the title of her track through an old telephone.
On Sept. 21, the singer revealed the 13th track on the album is titled "Mastermind." Then, on Sept. 22, the singer announced the eighth track on her album. With her cat Meredith (who is named after the Grey's Anatomy character, Meredith Grey) sitting beside her, Swift revealed the song is called "Vigilante Sh*t." It's worth noting for this track, Swift picked up the phone upside down. (What could it all mean?)
Next up, on Sept. 26, Swift unveiled track seven: "Question." The following day, she told fans her sixth track is called "Midnight Rain." The next edition of her series arrived on Oct. 2 when she announced her third track is called "Anti-Hero" while holding the phone upside down again.
Midnights Pre-Order Info
Midnights is available to pre-order now. Fans can purchase it as a CD ($12.99), cassette ($17.99), digital album ($11.99), and vinyl record ($29.99).
Midnights Physical Album Details
According to Swift's website, her physical Midnights CD comes in four different versions: Midnights: Jade Green Edition CD, Midnights: Moonstone Blue Edition CD, Midnights: Mahogany Edition CD, and Midnights: Blood Moon Edition CD. Each one comes with unique artwork that shows Swift in a different position, including gracefully posing in front of her piano, holding a lighter, leaning against a wood-paneled wall, and making a call on a telephone.
As you can tell by the title of each CD, each version has its own unique colored disc. On top of that, each CD will come with a 24-page lyric booklet featuring "never-before-seen photos." The CDs are priced at $12.99. There were signed editions of the CDs up for pre-order on Swift's website but they're no longer available.
Midnights Vinyl Details
As for the vinyl version of Midnights, which is titled the Moonstone Blue Edition, it will come with a collectible album sleeve. According to the sales description, each side will feature "a different full-size photo" of Swift, a full-size gatefold photo, and an 8-page lyric booklet with "never-before-seen photos." The vinyl disc will aptly showcase a moonstone blue marbled color.
On Aug. 31, Swift unveiled three special edition vinyl covers on Instagram: Midnights: Jade Green Edition Vinyl, Midnights: Mahogany Edition Vinyl, and Midnights: Blood Moon Edition Vinyl. Just like the CD versions, each vinyl disc comes with its own cover art and colored vinyl. The vinyl records are priced at $29.99.
Similar to the initial vinyl she released on Aug. 29, the album's tracklist is shown on these new covers but the song titles are not yet detailed. In a Sept. 16 Instagram video, Swift shared that when all four vinyl records or CDs are grouped together and flipped over, they'll form the image of a clock. I mean, would Midnights be a Taylor Swift album without some sort of cryptic message or easter egg? Swift is selling additional items to form an IRL clock out of the covers on her website.
Swifties, get out your cardigan sweaters because Taylor is about to dominate another fall season.
This article was originally published on