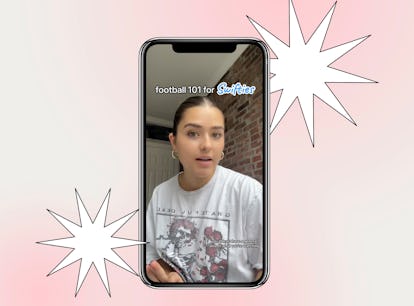 Swifties Are Going To ~Lengths~ To Become Travis Kelce Fans
She wears short skirts, I wear Kansas City Chiefs jerseys.
We may receive a portion of sales if you purchase a product through a link in this article.
It's Taylor Swift's world, and the rest of us are just living in it. Anything the "Cruel Summer" singer does seems to be making headlines these days, especially her rumored romance with Kansas City Chiefs' tight end Travis Kelce. The hype around the two hasn't died down, so similar to how you would do your research as soon as your BFF tells you about a new man in their life, Swifties have already gone to great lengths to become Kelce fans by learning what they can about football and buying his merch.
ICYMI, the Super Bowl champ shot his shot with Swift by inviting her to his game against the Chicago Bears on Sept. 24, and despite being the biggest musician in the world right now, she accepted. Fans of both Swift and the NFL couldn't get enough of seeing the singer cheering on the Chiefs from the stands during the game, and Swifties really took the moment and ran with it. Even though Swift and Kelce have not confirmed whether they're officially dating, that hasn't stopped Swifties from fully embracing the union. As one fan wrote on X, formerly Twitter, "Football guys and Swifties coming together is weirdly cute."
If you thought Swift's fans were great at solving puzzles to find album release easter eggs, just see how dedicated they are to learning everything you need to know about Kelce. From buying up jerseys to nailing football lingo, here's how the fandom has embraced the relationship rumors.