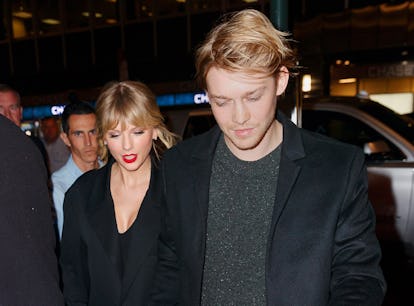 Taylor Swift & Joe Alwyn's Relationship Timeline Is Ultra-Private
Jackson Lee/GC Images/Getty Images
Taylor Swift and Joe Alwyn are famously private about their romance. Since getting together in 2017, the couple has kept their relationship strictly out of the spotlight. To this day, they still haven't walked a red carpet together... or even posted an Instagram pic. But whatever they're doing (or not doing) seems to be working for them.
More than five years after getting together, Swift and Alwyn's romance is still going strong — and come Oct. 21, there's about to be a whole new album full of romantic lyrics to decode. Already, Swift has revealed that at least one of her tracks from Midnights, "Lavender Haze," is about her relationship with Alwyn.
Explaining the song title on Instagram, Swift said that she picked up the popular '50s phrase from watching Mad Men. "If you were in the lavender haze, then that meant that you were in that all-encompassing love glow, and I thought that was really beautiful," she explained, before clarifying that's how she felt with her beau. Ugh, too sweet.
Here's hoping there are plenty more lovey-dovey songs to come when the album drops. In the meantime, let's take a look back on Swift and Alwyn's extremely private relationship history.
These lovers are truly the best.