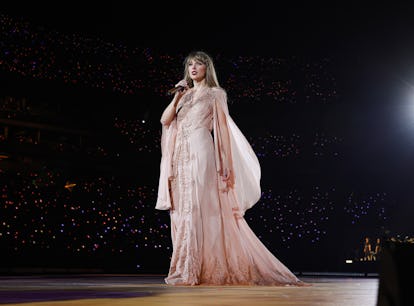 Swifties Think Taylor Was Hinting At Her Breakup With Joe Through Her Eras Set List
Cannot stop thinking about this theory...
Ethan Miller/TAS23/Getty Images Entertainment/Getty Images
It's the end of an era for Swifties, as reports that Taylor Swift and longtime boyfriend Joe Alwyn broke up dropped a bomb on the fandom when they surfaced on Saturday, April 8. Although the unexpected split was shocking to most fans, some pointed out that Swift could have been dropping a big clue about her love life during her latest Eras Tour shows. Now, a theory about why Swift stopped performing "Invisible String" at her Eras Tour concerts has gone viral, with fans suspecting it was an early hint about the reported breakup with Alwyn.
Entertainment Tonight first reported that Swift and Alwyn had called it quits on April 8, citing an unnamed source who claimed the couple broke up "a few weeks ago," which was the reason Alwyn had been notably absent from any of Swift's Eras Tour shows. Soon afterward, the breakup report was confirmed by several other publications, including People and Page Six. Swift and Alwyn had been together for over six years; they first began dating at the end of 2016. Though the relationship was a purposefully private one, Alwyn became an important part of Swift's music, inspiring multiple love songs on her albums Reputation and Lover. He then began collaborating with Swift by co-writing numerous songs on her 2020 releases Folklore and Evermore, adopting the pen name William Bowery.
It is because of Alwyn's personal connection to Swift's music that some fans think the Eras Tour set list was subtly telegraphing the breakup. When the career-spanning tour first kicked off on March 17, Swift included a performance of "Invisible String" at the beginning of her Folklore section. The romantic song is beloved among fans for telling Swift and Alwyn's love story with intimate specificity. However, after her first four shows, Swift stopped playing "Invisible String" live, instead replacing it with a much less romantic Folklore cut, "The 1." Notably, "The 1" is about Swift looking back at a failed relationship.
Fans may not have thought too much about the song switch when it first happened, but after those breakup reports, Swifties formed a theory that Swift had purposefully changed her set list to reflect her new relationship status.
It's probably for the best that "Invisible String" was taken off the set list, because after these breakup reports, it would definitely send Swifties into an emotional tailspin if they heard it live at the next Eras Tour concert.