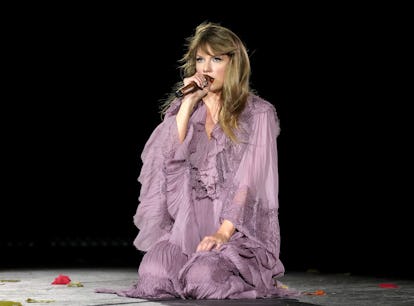 Taylor's Eras Tour Set List Is A Massive, Career-Spanning 44 Songs
Oh, and she's changing one song every night.
Kevin Mazur/Getty Images Entertainment/Getty Images
Taylor Swift wasn't lying when she called her 2023 concert tour the Eras Tour. The highly anticipated event kicked off on March 17, with Swift performing songs from throughout her illustrious career, ranging from her self-titled 2006 debut to her latest 2022 album Midnights. Fans expected the tour to deliver hit after hit, but nobody predicted just how massive the Eras Tour set list would be. On her first night of the tour, Swift performed 44 songs in a concert lasting over three hours, and revealed how each performance of the Eras Tour would be extra special with one specific song change.
Ever since Swift first announced her Eras Tour shortly after releasing Midnights in the fall of 2022, fans have been eagerly waiting to see what the set list would look like. As the name suggests, the concert series features songs from throughout Swift's nearly two-decade career, and Swift finally revealed which specific songs make up the set list on night one of the tour. As expected, her recent albums Midnights, Evermore, Folklore, and Lover are most heavily featured, since they were released after her last concert tour, 2018's Reputation Stadium Tour. But the set list also includes songs from every one of Swift's 10-album discography, including a major throwback all the way back to her self-titled debut.
Check out the full Eras Tour set list below, which kicks off with a ton of Lover love and fittingly wraps up with some Midnights bops.
"Miss Americana & The Heartbreak Prince"
"Cruel Summer"
"The Man"
"You Need to Calm Down"
"Lover"
"The Archer"
"Fearless"
"You Belong With Me"
"Love Story"
"'Tis the Damn Season"
"Willow"
"Marjorie"
"Champagne Problems"
"Tolerate It"
"…Ready For It?"
"Delicate"
"Don't Blame Me"
"Look What You Made Me Do"
"Enchanted"
"22"
"We Are Never Ever Getting Back Together"
"I Knew You Were Trouble"
"All Too Well (10 Minute Version)"
"Invisible String"
"Betty"
"The Last Great American Dynasty"
"August"
"Illicit Affairs"
"My Tears Ricochet"
"Cardigan"
"Style"
"Blank Space"
"Shake It Off"
"Wildest Dreams"
"Bad Blood"
"Mirrorball"
"Tim McGraw"
"Lavender Haze"
"Anti-Hero"
"Midnight Rain"
"Vigilante Sh*t"
"Bejeweled"
"Mastermind"
"Karma"
While this set list is most likely going to remain constant throughout the tour, there is one song that will be changed out with each date. Swift revealed that the 36th slot will be a new acoustic performance of a different song at each concert, to make the experience extra special for each audience. To kick the tradition off, she performed her dazzling Folklore track "Mirrorball" for the Glendale, Arizona, crowd.
So, if you happen to be one of the lucky Swifties to nab Eras Tour tickets, it definitely sounds like all the trouble will be worth it to hear this massive set list of hit songs live.