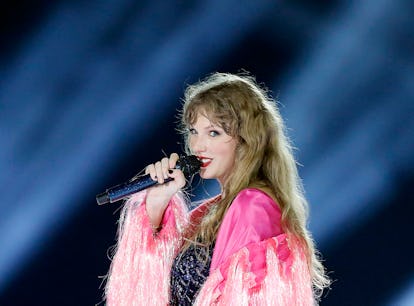 The Speak Now (Taylor's Version) Tracklist Is Every Emo Kid's Dream Come True
Fall Out Boy!? Hayley Williams!?
Octavio Jones/TAS23/Getty Images Entertainment/Getty Images
The wait for Taylor Swift's next re-release is finally almost over. For months, fans of the pop star have been dissecting possible clues hinting at Speak Now being the next album to get the (Taylor's Version) treatment, and at long last, Swift herself confirmed the speculation while on her Eras Tour. As with her past re-releases Fearless (Taylor's Version) and Red (Taylor's Version), Speak Now (Taylor's Version) will include a bunch of previously unreleased "vault" songs. Here's everything Swifties need to know about the upcoming album drop.
Ever since Red (Taylor's Version) was released toward the end of 2021, Swifties have been on high alert for which album in her discography Swift would re-release next. For basically all of 2022, the speculation was split between two albums — some fans thought Swift was reviving her 1989 era in certain videos and appearances, while others were putting the pieces together that Speak Now was next. As Swift's Eras Tour went into full swing in 2023, it was becoming more and more clear that the Speak Now truthers were onto something. Finally, Swift made it official at her Nashville concert on May 5, announcing that her next re-release would be available just two months later.
Speak Now (Taylor's Version) Release Date
The new version of Speak Now will come out on July 7. Swift announced the release date in a note on Twitter, joking that the album would be out "just in time for July 9th," a winking reference to the lyrics of her Speak Now track "Last Kiss."
Speak Now (Taylor's Version) Vault Songs
The re-release announcement also came with confirmation that Speak Now (Taylor's Version) will include six unreleased songs "from the vault." These so-called "vault songs" have become a new tradition for Swift, as she's included them in each of her re-releases as an added treat for her diehard fans.
Swift revealed the full tracklist on June 5, including the newly released vault songs. The six new vault tracks are:
"Electric Touch" featuring Fall Out Boy
"When Emma Falls In Love"
"I Can See You"
"Castles Crumbling" featuring Hayley Williams
"Foolish One"
"Timeless"
Swifties had already picked up on some clues that Hayley Williams would likely be featured on the re-release, but the Fall Out Boy collab came as a total surprise. Fans will finally be able to hear these new songs when Speak Now (Taylor's Version) drops on July 7.
This article was originally published on