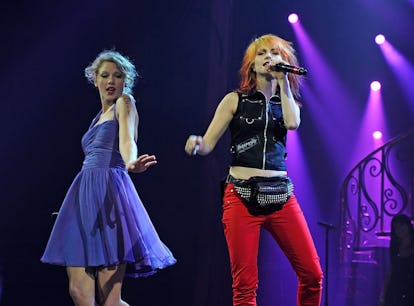 Um, Did Hayley Williams Just Hint At A Collab With Taylor Swift?
Her recent quotes inspired a new theory.
Frederick Breedon IV/WireImage/Getty Images
Swifties are back in detective mode — and it's for a thrilling reason. After years of layered Easter eggs, Taylor Swift announced Speak Now (Taylor's Version) will arrive this summer. The singer also noted this new version will feature previously unreleased "vault" songs; however, that might not be the only sonic surprise on the album. Recently, a video of Paramore's Hayley Williams meeting a fan went viral, and the internet is convinced the singer sneakily hinted she (or the band) might appear on Speak Now. Let's unpack this theory.
On June 1, a fan named Layla posted a TikTok video of when she met Williams. The singer, whose currently on tour with Paramore, hosted a meet-and-greet at Ulta to celebrate her hair-dye brand, Good Dye Young. In Layla's video, she gave Williams a Speak Now friendship bracelet, a trinket that's become a stylistic trend for fans to wear at Swift's Eras Tour. The "Ain't It Fun" singer seemed surprised by the gift and responded somewhat cryptically.
"Let me just tell you, this is coming at a very interesting time that you're giving me this to wear. And that's all I'll say," she said, to which Layla gasped. Um, what does Williams know about the album that Swifties don't?
One fan pointed out Williams' knowing expression while holding the bracelet, convinced she and Swift might be planning a collaboration. This theory wouldn't be too far-fetched, as the two singers have been fans of one another for years. Williams was an opening act for Swift's latest Eras Tour, and on the show's opening night, she recalled how they first met at the 2009 Grammys. That year, Swift won Album Of The Year for Fearless and performed with Miley Cyrus.
"I was like 18 at the time, and it felt kind of lonely, to be that young and to be doing things, like the Grammys and all that," Williams said in a fan video, per Variety. She continued, revealing she met Swift's mom, Andrea, backstage. "She said to me, 'My daughter, she just played, she's just getting started and she doesn't really know anybody in the business. And I just really want her to be around people her age that are doing the same thing,' and so I got her number."
However, the two didn't contact one another until after the MTV Video Music Awards later that year. That event birthed the infamous incident between Swift and Kanye West, when he interrupted her acceptance speech for Best Female Video. According to Williams, she believed Swift "didn't deserve" that treatment, and texted her to check up on her.
As for the collaboration theory, fans also noted the location where Swift announced the Speak Now re-recording. The singer shared the news while at a show in Nashville — the city where Williams moved to in 2002 and later formed Paramore. Coincidence, maybe?