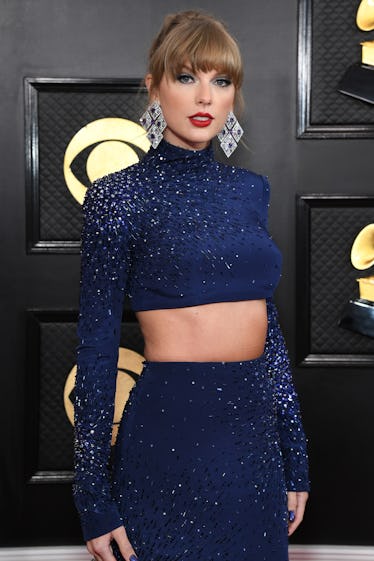 Swifties Think Taylor's Grammys Look Is 1 Giant Speak Now Easter Egg
Is a re-release imminent?
Jon Kopaloff/WireImage/Getty Images
When Taylor Swift flaunted that she can "polish up real nice," she meant it. The singer recently appeared at the 2023 Grammys, where she snagged the Best Music Video award for her self-directed All Too Well: The Short Film and danced the night away — literally. While her new Grammy win excited Swifties, it was the singer's rather *bejeweled* 'fit that sent her stans into a frenzy. Specifically, her fans believe her look is a nod to her Speak Now album, and they might be onto something.
According to Harper's Bazaar, Swift wore a custom Roberto Cavalli two-piece with Giuseppe Zanotti heels on the red carpet. The look — which features a long-sleeved crop top and floor-length skirt flared with white beads — fits so well to her Midnights album. So far, Swift has mostly toyed with navy and moonstone colors in this era. Also, the diamond accents on her gown glimmer like raindrops in certain photos, and it gives off major "Midnight Rain" vibes.
To top off the look, Swift also wore a pair of purple sapphire Schwartz earrings. Even though this glitzy gown screams her new era, some Swifties instantly thought of her Speak Now run. One user pointed out that Cavalli also designed her gold gown from her 2011 Speak Now tour, which boasts a similar shimmer effect to that of her Grammys look.
Another Twitter user went full detective mode and pointed out her purple-gemmed earrings reminded them of her 2010 album. It's not a far-fetched nudge, being that purple and lavender hues were a signature in her Speak Now days (as evidenced by the purple dress she wore on the album cover).
Every album from Swift signifies a new era with a distinct color: Fearless (yellow and gold); Speak Now (lavender); Red, 1989, and Reputation (red, of course); Lover (pastels), and Midnights (blues). With that said, it's interesting that Swift would pair purple earrings with a seemingly all-blue fit. From afar, the two look eerily similar in color, so for Swifties to catch this distinction speaks volumes to how often Swift embeds Easter eggs into her looks.
This isn't the first time Swifties have speculated that Swift will release a re-recorded version of Speak Now. In Swift's latest video for her Midnights opener "Lavender Haze," she seemingly referenced the 2010 album by including images of koi fish. IYDK, Swift would often perform with a guitar that had a koi fish design during her Speak Now years.
In her "Bejeweled" music video from October 2022, many fans noticed the visual opened with an orchestral arrangement of "Enchanted" from Speak Now. Then, a month later at the MTV Video Music Awards, Swift wore curls and swords earrings — two features prominent in her Speak Now era.
These discreet Easter eggs are seemingly telling that something is on the horizon from Swift.