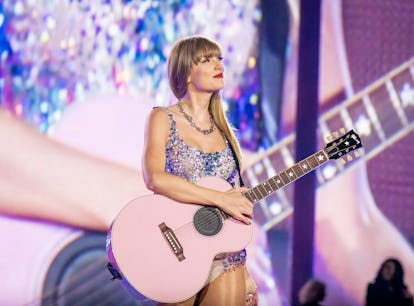 Here's How I Got Last-Minute Taylor Swift Eras Tour Tickets
Taylor, look what you made me do.
Terence Rushin/TAS23/Getty Images Entertainment/Getty Images
The great war is not just a Taylor Swift song, but what Swifties have been battling ever since tickets for The Eras Tour went on sale. Many fans who were given codes to the verified fan presale on Ticketmaster still weren't able to snag tickets to the show, which has made the hunt for Eras Tour tickets an almost impossible task. However, you shouldn't give up just yet. Instead of shaking it off, there are ways to get last-minute Taylor Swift Eras Tour tickets. I should know, because I was able to get tickets two days before my show in Las Vegas.
You've likely seen influencers who have been to multiple Eras Tour concerts while checking StubHub for resale tickets, and wondering how they are able to afford everything. Right now, many shows have tickets in the last row or restricted views listed for over $500 to $1000. With flights and hotel accommodations in different cities, it looks like fans are likely spending close to $1500 a show. That's just not possible for budget-friendly Swifties, but there are cheap and even free ways to get tickets. You just have to be willing to work for them.
I Went The StubHub Route For My Eras Tour Tickets
This may be the more expensive route to secure last-minute Swift tickets, but it is the most accessible. If you're banking on the idea that tickets will be super cheap the day of the show, don't! It used to be that you could refresh Ticketmaster or StubHub for resale tickets at a decent price a few hours before the show, but that's not the case anymore. Now, you'll see tickets with partial view and in the worst sections that are still overpriced after a concert has started.
It's a gamble you may not be willing to play. Instead, set a price range for yourself that you'd be willing to spend on tickets. The week before your show, keep refreshing sites like StubHub, SeatGeek, and even Gametime for resale tickets that are in that range. I set a price I was willing to pay before taxes and fees, and finally found one ticket while randomly checking StubHub right before bed. It can happen at any time of the day, so you have to be ready for it.
Also, if you see something you're willing to buy, just go for it. You don't want to be wishing you would've, could've, should've bought them once they're gone.
Ticketmaster Has Been Dropping Extra Tickets Before The Show, Too
Swifties have bad blood with Ticketmaster after they poorly handled the presale and canceled the general sale for The Eras Tour. Now, the company is magically finding last-minute tickets to shows the week of and sometimes an hour after a show has started. For anyone who doesn't mind being glued to their computer and hitting the refresh button nonstop, you may want to keep checking Ticketmaster for these spontaneous drops.
Some Swifties who were selected for verified fan presale have also reported that Ticketmaster has been sending out codes for tickets at least two weeks before each show as well. Just remember codes are tied to each Ticketmaster account, so if it wasn't sent to you, you may not be able to use it. I had a friend who went to the same Las Vegas show, and she was able to get her ticket through Ticketmaster the night before.
Swifties on Twitter will let other fans know when Ticketmaster drops extra tickets, so it's best to follow different accounts and turn on your notifications. One Twitter account that has been really great about keeping Swifties informed is Eras Tour Resell (@ErasTourResell).
You Can Find Fellow Swifties Selling Their Tickets At Face Value
Eras Tour Resell has been doing the lord's work helping Swifties find tickets that aren't a scam. Through their account, sellers can list their extra tickets for The Eras Tour so that other Swifties can buy them instead of scalpers. They make sure to verify every ticket they list is real, and they encourage everyone to buy and sell their tickets for face value. While this is probably the cheapest way to buy last-minute Swift tickets, it is incredibly difficult.
Once a ticket is verified, Eras Tour Resell will tweet out all the information for the ticket, its price, and who to DM to get it. Since their account has become so popular with nearly 111K followers, you have to be ready to jump on each post as soon as it goes up. That means you need to set Twitter notifications and always have your phone on you. Even if you are the first person to DM the seller, it's not a guarantee that they'll pick you. The account also prioritizes tickets for shows that week, so if you're looking for a concert next month, you probably won't see it for awhile.
You can also look around Twitter, Craigslist, or even put a call out on your socials for tickets from other Swifties selling theirs. Content creator and Swiftie Francis Dominic (@francisdominiic) has been to six shows already. When asked by one of his followers how he's able to go to so many shows, he responded, "Ticketmaster, OfferUp, Twitter, Craigslist, and IG. I exhaust all of my resources." The only downside to random resellers is you don't have Eras Tour Resell to verify you're not getting ripped off.
Capital One Is Helping Swifties Find Last-Minutes Eras Tour Tickets
Capital One may as well be a part of Swift's infamous squad now that she's signed a multi-year partnership with the brand. For The Eras Tour specifically, Capital One has been offering card-carrying Swifties ways to win tickets. However, you don't have to be a member to snag last-minute tickets if you happen to live in NYC.
The Capital One Café on 59th and Lexington is hosting a giveaway from May 16 to May 19 for Swift's shows at MetLife Stadium. To enter, just scan one of the QR codes in the café. You only get one entry per person, and two winners will be chosen for each of the three shows. If selected, you'll receive a pair of tickets digitally transferred to you. While you're at the café, order a Lavender Haze Combo, which is appropriately priced at $13. The coffee and doughnut combo features a Verve Coffee Honey Lavender Latte and Bliss Bomb mini doughnuts. The two doughnuts you receive are a Lavender (haze) Shimmer with lavender milk soak, white chocolate enrobing, and a glitter topping as well as the Pink Champagne (problems) with a lavender glaze, sparkling rose champagne, and gold and silver sprinkles.
Not in NYC? No worries, there is also a national ticket giveaway for Capital One cardholders. You will need to be good at solving puzzles, though, which shouldn't be an issue for Swifties who are always on the hunt for easter eggs. Your next chance at winning tickets will be May 11 with Capital One giving Swifties a riddle to solve. Once you figure out the code word, reply to either Capital One's post on Instagram or Twitter with the word along with #TSxCapitalOne and #Giveaway. By using those hashtags, you'll receive a reply on Twitter or DM on Insta with a unique link. Once you click through, you'll be able to enter your code word, contact info, which show you'd like to see, and the first six digits of your Capital One credit card for a chance to win.
You Could Also Enter A Contest For Taylor Swift Eras Tour Tickets
The cheapest way to snag last-minute Swift tickets is to win a contest. In addition to Capital One's giveaways, you've probably seen quite a few social media contests where you have to like, follow, and comment on an IG post in order to win tickets. TickPick is currently hosting an Eras Tour ticket contest on TikTok, where the winner will receive tickets to a show of their choice. Your local radio station may also have tickets to giveaway to callers. While you may think the odds aren't in your favor, there is still a chance.
Anna Tegarden (@taylormermaidcat) won tickets to one of Swift's shows in Tampa, which is how she was able to see all three nights of the Eras Tour in Florida. Tegarden shared with Elite Daily, "I'm constantly entering contests and trying to win tickets. I'll read the fine print to see if it's an enter daily contest, or just a one time entry." She won her tickets through a radio contest where she had to call into a station after hearing two Swift songs in a row.
Basically, finding a ticket to the Eras Tour is like a part-time job. You have to be willing to work hard, keep your phone with you at all times, and always be on the lookout. If you really want to scream-sing the bridge to "Cruel Summer," admire Swift twirling in her folklore dress, and be there as she plays your fave song during the surprise acoustic set, let the ticket games begin.
This article was originally published on