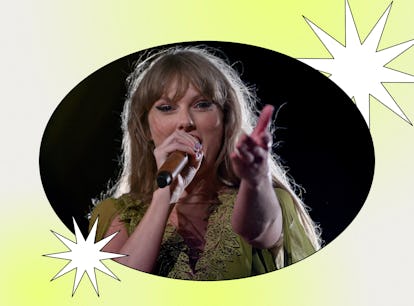 How To Get Taylor Swift Eras Tour International Tickets Abroad
Ticketmaster, "why you gotta be so mean?"
Fernando Leon/TAS23/Getty Images Entertainment/Getty Images/Elite Daily
International Swifties, now is your turn to experience the dramatic saga that is trying to acquire Taylor Swift Eras Tour tickets. It's not an easy feat by any means, especially when Ticketmaster is involved. Swift first announced international dates for her Eras Tour in June, which includes cities in Europe, Asia, and Australia. In addition to the announcement, Swift also shared that registration for those dates had opened up. Unfortunately, the deadline to sign up to be a "verified fan" and receive a code to purchase tickets on Ticketmaster has long since passed, but that doesn't mean you can't still get international tickets to Swift's Eras Tour another way.
Just like there are many avenues (albeit some expensive ones) to buy last-minute Eras Tour tickets, there are ways to get tickets to potentially see Swift sing "Paris" in Paris or "London Boy" in London. The only problem is Ticketmaster has put into place a new set of rules for international Eras Tour tickets that involve a "lead booker" policy. This stipulation added onto Swift tickets has definitely made getting them a lot harder. You might be wondering, what is the Ticketmaster lead booker policy? Well, it's the company's solution to the issue of resellers. U.S. Swifties have had to deal with scalpers and non-fans buying up tickets to the Eras Tour, and reselling them for an exorbitant amount. For example, tickets in the same row that I paid $250 for at face value are now going for almost $1,600 on StubHub — and that's just the lowest price. The most expensive are listed for $9,500.
To try and avoid this type of highway robbery, Ticketmaster's lead booker policy makes it so the tickets purchased are non-transferable — meaning you can't resell them on a site like StubHub. Instead, the person who bought these tickets must be present at the show to use them. This makes tickets bought as presents unusable unless the person who bought them is there to present "a valid photo ID matching the customer name on the booking confirmation and the credit card." Groups must also "enter the venue at the same time." These strict rules may make it easier for Eras Tour tickets to fall into the hands of only Swifties, but it also makes it almost impossible for you to get international Eras Tour tickets without a presale code. However, there is a bit of hope.
Can You Get Resale Taylor Swift Eras Tour International Tickets?
Lead booker rules are put into place not just for the UK shows, but all international dates, including France, Sweden, and Japan. Most countries, though, state that these rules can change, and "resale may become available at some point." According to Ticketmaster, the decision to not have resale activated is a choice of the "organizer" — aka Swift's team. It's possible if enough Swifties complain about the lead booker rules, Eras Tour tickets will become available for resale. After the Eras Tour Ticketmaster fiasco of 2022, Swift shared a lengthy (and angry) statement about the mishandling of the sale. Swift, who is "extremely protective" of her fans, was rightfully pissed about the situation, so it's possible she'll make things right with international Swifties as well.
If they allow for the resale of Eras Tour tickets, you'll be able to find those listed on Ticketmaster and potentially other sites like StubHub. The best solution IMHO is allowing for resale tickets, but capping the price at face value so that fans can only get back the money they spent and other Swifties don't have to decide if they'd rather pay rent for a month or see Swift sing "Cruel Summer" IRL. Until Ticketmaster makes a change to their policy, BDG's Senior Newsletter Editor Hayley Schueneman — who got tickets to see Swift in France — says, "I would be leery of people saying they can sell you international tickets!"
Will There Be A General Sale For Taylor Swift Eras Tour International Tickets?
Similar to how Eras Tour tickets have been selling in the U.S., you need a fan code in order to actually get in the queue to buy tickets. While presales have begun, some cities are opening up general sales to more verified fans who were put on the waitlist. However, these fans still need a code that's linked to their Ticketmaster account in order to buy them. This means if you missed the deadline to register for Eras Tour tickets, you won't be able to purchase general sale tickets.
The public sale for Eras Tour in the U.S. was canceled due to the high demand, and that seems to be the case internationally as well. A lot of fans have also been saying on TikTok that they've been taken off the waitlist, but the only tickets still remaining are the VIP packages to Eras Tour since those are the most expensive. It's possible that if Ticketmaster decides to open up their sales to the general public, all that will be left are VIP packages.
Pretty much, the sales for Eras Tour 2024 tickets are looking to be just as dramatic and confusing as the U.S. Right now, all you can hope for is that Ticketmaster drops their lead booker policy, they open up sales to the general public, or you find a friend in Europe, Asia, or Australia with an extra ticket who would be willing to go to the show with you. Of course, you could also mastermind a friendship with Swift so she invites you into the Eras Tour VIP tent — but that's going to take a little more manifesting to happen.