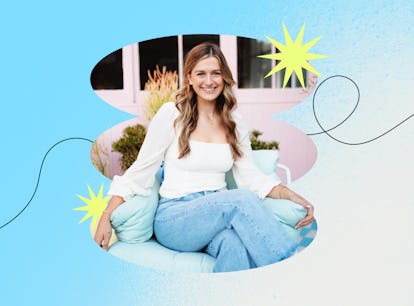 Victoria Garrick Browne On Manifesting & Taylor Swift
Her body acceptance content has also caught the eye of Kristen Bell.
Elite Daily/Courtesy of Victoria Browne
Some content creators just seem like they would make great BFFs IRL. For anyone looking for a comfy corner of TikTok to discuss body positivity and mental health, that FYP bestie is Victoria Garrick Browne. Often sharing GRWM videos and clips from her podcast, Real Pod, Browne's TikTok, where she has more than 1.3 million followers, ranges from hilariously relatable to emotionally powerful. However, Swifties may recognize her for something else. In 2021, Browne shared a video of herself explaining the importance of "Wildest Dreams (Taylor's Version)" to her husband in the car. The TikTok went so viral, with more than 15.6 million views, that even Taylor Swift commented on the video.
At the time, Browne says she was "in disbelief," but she also admits she manifested her Swift interaction, saying, "I just knew," she tells Elite Daily at VidCon 2023. "I didn't know if she'd comment, but I knew she would see it." Now, Browne is using the power of manifesting to try to get Swift on Real Pod. On each episode of her podcast, Browne has deep conversations with celebrities, athletes, and other creators, like Hannah Berner, about anxiety, intrusive body image thoughts, and even dating advice.
According to the 26-year-old host, the most exciting thing about these conversations is that she's been able to create an environment "where people really feel safe to be themselves." Of course, getting name-dropped by Kristen Bell in a convo with Kim Kardashian should also be added to that list of career accomplishments. Below, Browne dishes on the celebs who follow her online, the advice she'd give to anyone wanting to be a content creator, and what she's wearing to Swift's Eras Tour.
This interview has been edited and condensed for clarity.
Elite Daily: On Real Pod, you have unfiltered conversations. What's the most real you've ever gotten on one of your episodes?
Victoria Browne: There have been so many amazing times. I think my favorite thing as a host is when someone says, "I've never said this before," and then they keep going. Recently, Cloe Feldman (CloeCouture on YouTube) came out as bisexual to the world on Real Pod.
ED: What have you learned about yourself having these honest conversations?
VB: It's a continuous reminder that everyone is going through something. It's easy to tell yourself that and say it, but when I'm having conversations every week with people who are struggling or trying to figure stuff out, it makes you feel better and less alone that your life isn't perfect or completely together.
ED: Who are some of your dream guests you would love to get on the podcast?
VB: My dream guest is Taylor Swift. I would love the opportunity to talk to her, and I joke that I refuse to let my soul transcend into the heavens until I get to sit down with her. Even if we're both 80, I will still want to do it. Other than that, I would love to sit down with Jameela Jamil, Simone Biles, and Kevin Love. Let's manifest.
ED: Speaking of Taylor Shift, she commented on one of your TikToks. Walk me through the moment when you found out.
VB: I woke up and I checked my TikTok notifications the day after posting it, and someone said, "She commented in all caps." I knew exactly what they were talking about. I was just shook to my core.
ED: Are there any other songs or Taylor Swift theories that you'd like to explain to your husband?
VB: I'm prepping him for the Eras Tour because I can't bring him unless he's going to be singing along. You've got to appreciate that ticket. We were recently watching Miss Americana, the documentary, and I have this hilarious video where it's the part when Kanye West interrupted her award. I panned the camera to my husband, and his jaw was on the floor because he didn't know the story. I need to explain that to him as well.
ED: You recently posted that you're struggling with what to wear to Taylor Swift's Eras Tour. What do you think makes the perfect Eras Tour outfit?
VB: Well, obviously, the biggest thing is loving your own outfit. I think posting that video was very helpful for me because I got lots of feedback, and I've decided on my outfit. It involves printing out the screenshot of the comment from Taylor and incorporating it into my look. I'm really excited.
Perfectionism really keeps people from pursuing their dreams. You just have to put yourself out there.
ED: Which Taylor Swift era are you currently channeling?
VB: I have been in a Reputation era for sure, and I think I'm transitioning back into a Lover era. I feel like Lover is my resting era, and I was having a little bit of a rebellious stage.
ED: I love that. It's kind of like astrology.
VB: I have a rising Rep and a sun Lover. That's funny.
ED: Aside from Taylor Swift, have you had any other famous celebs comment on your TikToks or anyone slide into your DMs?
VB: When Kristen Bell did her very brief podcast with Monica Padman, We Are Supported By, they interviewed powerful women. When they talked to Kim Kardashian, Kristen Bell name-dropped me, referring to how she loves my content about body acceptance. I just can't even believe that she did that in an interview with Kim Kardashian. Then, I was stalking Camila Cabello for something one day, and I was looking through her following list and saw she follows me. We've never talked to each other, and she's never messaged me back, but she follows me.
ED: That's so cool. Is there any celeb that you want to be friends with on TikTok?
VB: I am obsessed with Jake Shane, @octopusslover8. We both went to [the University of Southern California], and we actually have mutual friends, so he's probably someone who I would vibe with. I think he's hilarious, and he also loves Taylor Swift, so I would love to meet him.
ED: What are your current phone habits like? How often are you on TikTok?
VB: An amount that I'm afraid to check my screen time to see. However, I am trying to consume less and create more. That's one of my current mottos. I try to catch myself when I just pick up my phone without thinking about it. I think it's important to consume to get ideas and to spark creativity, but for me, I naturally have so much creative energy. When I waste it all, just taking in content, it almost feels so heavy that I'm not creating as much.
ED: What corners of TikTok are you on?
VB: I am definitely on SwiftTok, and I love being on SwiftTok, but it's so much that sometimes I'm like, "I should probably just skip this video so that the algorithm feeds me... just anything else." The problem is if I see a Taylor Swift video, I can't help but watch the entire thing.
ED: Have you bought anything or tried any of the beauty trends from TikTok?
VB: Yes, I actually kind of started a series. I need to get back on it. I think my most viral video was seeing Mikayla Nogueira reviewed a Tom Ford sparkly lipstick, and I stitched it. My whole video was silent. I order it, the package comes, I unbox it, put it on, and then at the end, I just scream. That's the video. I have a few more things I want to try. I've had good luck with what I buy off of TikTok.
ED: What's the best piece of advice that you have for anyone wanting to become a content creator?
VB: I would say the best piece of advice is to just start posting videos. Post what comes to your mind. One of my favorite quotes is, "If your first draft is perfect, you started too late." Perfectionism really keeps people from pursuing their dreams. You just have to put yourself out there. That's when you figure out what you really like or what people are responding to. There's no way you can know that by trying to plan out what your brand's going to be in a Google Doc when you haven't even started it.