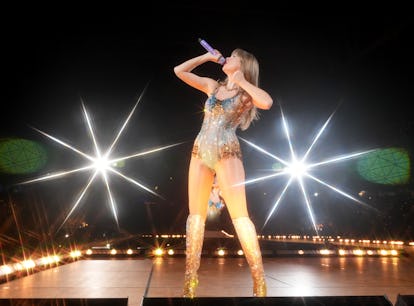 The Taylor Swift Era For Your Zodiac Sign Is Bejeweled NMW
It's you (Taylor's Version).
Kevin Mazur/Getty Images Entertainment/Getty Images
Meet her at midnight — or perhaps in some other era? Now that Taylor Swift's Eras Tour has officially kicked off, there's no better time to get nostalgic. With a massive setlist comprised of 44 career-spanning songs performed over the course of three(!) hours, every Swiftie is replaying all 10 of her studio albums and reliving her most iconic moments. It's equal parts magic, madness, heaven, and sin. BUT, even though you may have a personal fave album playing on repeat, there might actually be another Taylor Swift era that speaks to your zodiac sign more. Consider it your end game.
Throughout her longtime career, Swift has reinvented herself time and time again. Can you believe she used to be a country star? As exhausting as it's probably been for the singer-songwriter, she comes back stronger than a '90s trend each time. The chapters of the Cats actor's career are iconic and have their own unique personalities. Just like you can easily associate every album with a color for an Eras Tour manicure, you can also assign each of the zodiac signs to a Taylor Swift era — not just an album, but a full-blown, epic time period. Are you ready for it?
Aries: Reputation Era
Though it may cause some issues, you're used to being unapologetically yourself. Even when they say you did something bad, you remain unfazed. With Reputation being the album that defined Swift's Villain Era™ — complete with a snake-filled music video — it's clearly the one that's meant for a fiery, revenge-fueled sign such as yours. Call it what you want, haters.
Taurus: Folklore Era
Put on your best cardigan, Taurus, because the hushed, intimate vibes of Folklore couldn't be more on brand for you. As a fan of all things relaxed, comfortable, and simple, this era is one that you can deeply relate to. It's giving peaceful and outdoorsy — the perfect soundtrack for you to water your house plants and decorate your aesthetically pleasing home.
Gemini: Speak Now Era
You're always enchanted to meet new people, making Speak Now the quintessential Taylor Swift era for any Gemini. Like you, the Grammy winner's third studio album couldn't have been more conversational; it was expressive, sparkly, theatrical, and if there's one thing you enjoy, it's a juicy storyline. SN was also full of lyrics your chatty self could resonate with. "We small talk, work and the weather" — there's nothing you won't have a convo about.
Cancer: Taylor Swift Era
If there are any teardrops on your guitar, it's only because you embody the innocent, romantic vibes of T-Swift's eponymous debut album. The nostalgic in you is meant for the country-fried era, as it's deeply sentimental and a reminder of how it feels to be young, naive, and in (unrequited) love, something you may or may not have grown out of. Any time you're in need of a break from reality — or have a picture to burn — you can press play on Taylor Swift and be taken back to a sweeter, simpler time. Stay beautiful, Cancer.
Leo: 1989 Era
For better or for worse, you're constantly in the spotlight. (What can you say? You're literally ruled by the sun.) Haters gonna hate, but you're just going to keep shaking them off — just like Miss Swift, especially in her 1989 days. Defined by a blunt bob, girl gang, and red lip (classic), this era has major Lion vibes. You'll also never go out of style *flips hair*.
Virgo: (Taylor's Version) Era
As the detail-oriented sign of the zodiac, your particular brand of TayTay lives somewhere in the re-recording of all her music. You're someone who likes to know exactly what you're getting yourself into, and when it comes to signing contracts, you always make sure to read the fine print. If anyone understands the need to have full ownership of their work, it's you, the perfectionist of the zodiac.
Libra: Lover Era
No need to calm down, Libra. You know Lover was practically made with you in mind. Post-Reputation, Swift moved on to her seventh album donning pastels and tie-dye everything. Since you're all for happy, easygoing vibes, you should bask in the afterglow of the superstar's most colorful era, perhaps making a paper ring or two in the process.
Scorpio: Karma Era
You and karma vibe like that. While technically not an album as of yet, Swift's rumored Karma album is one that would be right up your alley. It's even more on brand that it hasn't been released — you may keep your side of the street clean, but if there's one thing you love, it's a good old-fashioned secret. (Although, you probably enjoy seeing your enemies get what they deserve even more.)
Sagittarius: Red Era
Everything has changed since 2012, but no one — especially a fellow Sagittarius like Swift — can forget the "happy, free, confused, and lonely" time that was the Red era. It was experimental, so as the adventure-seeking sign of the zodiac, your brand definitely rests in Swift's fourth studio album. Then again, you should know that all too well.
Capricorn: Evermore Era
'Tis the damn season to blast Evermore. It's the perfect album for you, because it centers three of your favorite things: tradition, nostalgia, and conventional clothing. You're not a huge fan of bright colors and rhinestones (sorry, Red and Lover), but stoic, melancholy vibes? Oh yes. Long story short, Swift's ninth studio album may not get as much praise as the rest, but as someone who prefers to be more behind the scenes, you can appreciate what others often overlook.
Aquarius: Midnights Era
It's you (hi), the night owl of the zodiac. Is there any question why Midnights is meant for you? Not only does Swift's most self-aware, authentic era call upon your own late-night musings, but the switching aesthetics from autumnal neutrals to glitzy glam is something that speaks to the unconventional labyrinth in your own closet. Turns out, you're not on your own, kid — Taylor Swift has your back.
Pisces: Fearless Era
Fearless will forever & always be your album, Pisces. Though you've grown a lot since 2008, you remain idealistic and can still be found constantly daydreaming — and you're not sorry about it. So what better era than Swift's fairy tale-fueled memento? After all, regardless of how many years it's been since Fearless' release, it's still a love story.