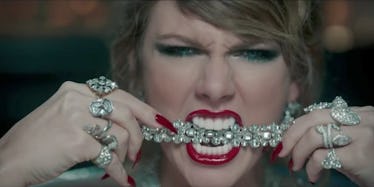 8 Tiny Details In Taylor Swift's "LWYMMD" Video That You Definitely Missed
YouTube
Taylor Swift's "Look What You Made Me Do" music video premiered during the VMAs last night, and the internet has a lot of opinions about the singer's newest video. It's definitely not her best, but there are still people out there who are praising Swift for her "savagery." IRL, she copied a lot of aspects from Beyoncé's Lemonade and created an overall very petty video that's basically saying her life is just as important as all of the things that have happened in the world ever since her last album. Oh, Taylor, you tried. Anyway, there are lots of tiny details in Taylor Swift's "Look What You Made Me Do" music video that people probably missed. She filled the entire video with cameos from her past music video selves ('cause that's never been done before), but there were also some smaller things hidden within those cameos that you likely didn't catch.
Behind all of the shade she threw, the questionably decent dancing, and the fact that she addressed her most common criticisms she's gotten over the years at the end of the video, the "Look What You Made Me Do" music video has a lot more throwbacks to her past than you might have noticed. Here's a breakdown of all of them.
1. Zombie Taylor is wearing her "Out of The Woods" dress.
Yup, the dress Swift is wearing when she crawls out of a grave at the beginning is the same dress she wore in the "Out Of The Woods" music video, 'cause, you know, the old Taylor is dead!
2. The name on one of the tombstones is the pseudonym she wrote "This Is What You Came For" under.
Right after Swift and Calvin Harris broke up, it was revealed by Harris that Swift actually helped wrote his and Rihanna's song, "This Is What You Came For." She wrote under the name Nils Sioberg, which was featured in one of the first scenes of the "LWYMMD" music video.
3. She's wearing her 2014 Met Gala dress in that grave.
Swift really went all-in with these references. The video features just about every music video outfit she's ever worn (well, at least her most favorite ones), and she even goes so far as to throw in some former Met Gala looks.
4. The gold car Swift crashes looks a lot like the one Katy Perry drove in her "Waking Up In Vegas" music video.
In part of the "Waking Up In Vegas" music video, Perry drives off in a gold sports car that looks a lot like the one Swift drives and crashes in "LWYMMD." Swift's outfit during this portion of the video is also similar to Perry's looks in the "Waking Up In Vegas" video (lots of animal print, bold jewelry, bright colors), but it's hard to tell whether she's throwing shade at Perry or just copying her. And with Swift, honestly, who knows.
5. She robs a place called "Stream Co.," which is most likely a reference to her criticism of streaming services that don't pay artists enough.
Seems like Swift is patting herself on the back for this one since she was at the helm of urging Apple Music to pay its artists better than other streaming services did. Her music just returned to Spotify, however, after she pulled her discography from the service to send a message about paying artists.
6. "Squad U" is an obvious reference to the fact that Swift has been criticized for seemingly carefully curating the members of her ~squad~.
All of the women in the crowd of Squad U look like a battalion of robotically perfect women, which was clearly intentional on Swift's part. She appears to be calling out the people who have said that Swift only allows women who seem to be perfect (and white) into her group of friends.
7. Swift addressed all of the Tom Hiddleston drama with "I <3 TS" shirts, just like the one Hiddleston wore that people roasted him and Swift for.
During Swift and Hiddleston's (probably fake) relationship, Hiddleston was photographed wearing a white tank top that said "I <3 T.S.," so having her dancers (and YouTube/Broadway star Todrick Hall) wear shirts that say the same thing is a call out to that criticism.
8. She shouts out her actual squad on a T-shirt in the last scene of the video.
One of her past selves featured in the last scene is the Taylor from the "You Belong With Me" music video. In the video, she's wearing a T-shirt that says "Junior Jewels" and PJ pants, but Swift added some more details to that t-shirt in the "LWYMMD" video. In this version, the T-shirt features the names of her closest friends written on the shirt as if it were made at an elementary school sleepover. The shirt features names like Selena Gomez, Lena Dunham, Todrick Hall, Martha Hunt, Blake Lively, Ryan Reynolds, and more.
And that's what you missed in the "Look What You Made Me Do" music video. But just a friendly reminder to Swift that no one really made her do anything! Haha! Music brings us all together!