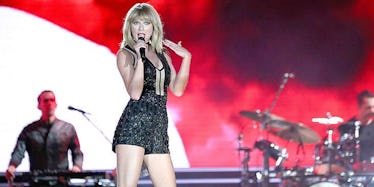 Taylor Swift Threw Major Shade At Tom Hiddleston In New Music Video & It's Intense
Gary Miller / Getty Contributor
No one is safe on Taylor Swift's Reputation album. If you crossed her, she's coming for you. In true Swift fashion, ex-boyfriends are fair game. If you have followed every T. Swift relationship as closely as I have, you picked up a lot of subtle shade from the "Look What You Made Me Do" music video. If not, let me enlighten you. Tom Hiddleston in the "Look What You Made Me Do" video seems nonexistent, but he's definitely there.
Swift unapologetically goes after people she's famously feuded with, including Kim Kardashian, Kanye West, and Beyoncé. Her ex-boyfriend, Tom Hiddleston, also got hit in the crossfire. In the video, Swift's background dancers rip off their jackets to reveal crop tops that say "I [heart] T.S."
In 2016, Hiddleston was famously roasted for wearing a shirt that said, "I [heart] T.S." It happened over the weekend of July Fourth, near Swift's Rhode Island beach house. In case you were wondering, it was embarrassing. As a couple, Hiddleswift was basically the center of the universe. The paparazzi were all over these two, and I'm sure the shirt was worn as a joke. Doesn't really make it better, but whatevs.
Their relationship was brief; it fizzled out faster than it started. They had more headlines written about them in six months than most celebs do in a lifetime. The relationship seemed so highly publicized that people doubted the authenticity.
During an interview with GQ about his life (aka love life), Hiddleston answered the most pressing question: Was Hiddleswift real?! He said,
Taylor is an amazing woman. She's generous and kind and lovely, and we had the best time ... Of course it was real.
Yas, exactly the directness we all wanted. He continued,
I have to be so psychologically strong about not letting other people's interpretations about my life affect my life. A relationship exists between two people. We will always know what it was. The narratives that are out there altogether have been extrapolated from pictures that were taken without consent or permission, with no context. Nobody had the context for that story. And I'm still trying to work out a way of having a personal life and protecting it, but also without hiding.
Just when Tom Hiddleston thought he could lay low, Taylor Swift releases the most fire music video of the year. Womp, womp. Well, Tom, it's better to have loved and lost than to have never loved at all. AMIRIGHT? Too soon? Just kidding, I hope he can enjoy this weird, wild ride.