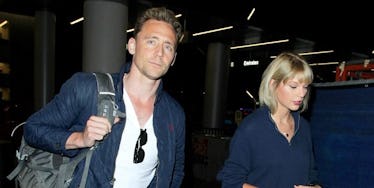 Tom Hiddleston Finally Reveals If His Relationship With Taylor Swift Was 'Real'
In a new longform interview with GQ, actor Tom Hiddleston opened up about his life, his career, his great Bolognese and, of course, his much-publicized relationship with singer Taylor Swift.
As the article suggests, you can probably be forgiven for only first hearing about the 35-year-old Brit due to his three-month relationship with Taylor Swift.
Their relationship was brief, sure, but Hiddleswift garnered more attention in less than six months than most folks do in a lifetime.
Hiddleston recently sat down with GQ for a feature profile, and in talking about his life and his career, naturally the conversation eventually turned to his relationship with Taylor Swift.
GQ's Taffy Brodesser-Akner recalls how Hiddleston started to give her a "prepared statement" about Tay Tay.
The 35-year-old said,
Taylor is an amazing woman. She's generous and kind and lovely, and we had the best time.
However, that's apparently not what was asked of Hiddleston. It seems as if the Brit was asked if his three-month relationship with Taylor Swift was "real," to which he replied,
Of course it was real.
AHA! WE FINALLY HAVE THE ANSWER TO THE GREATEST QUESTION EVER ASKED! TOM HIDDLESTON SAYS HIS RELATIONSHIP WITH TAYLOR SWIFT WAS "REAL."
But wait, there's more!
Hiddleston continued to talk about his time with Swift. He said,
I have to be so psychologically strong about not letting other people's interpretations about my life affect my life. A relationship exists between two people. We will always know what it was. The narratives that are out there altogether have been extrapolated from pictures that were taken without consent or permission, with no context. Nobody had the context for that story. And I'm still trying to work out a way of having a personal life and protecting it, but also without hiding.
HOLY HELL, THIS IS MAJOR INFORMATION!
Hiddleston continued,
I only know the woman I met. She's incredible. A relationship in the limelight… A relationship always takes work. A relationship in the limelight takes work. And it's not just the limelight. It's everything else. ... because you have to fight for love. You can't live in fear of what people might say. You know, you have to be true to yourself.
I highly recommend reading the GQ article in full, as you might see Tom Hiddleston as far more than just the dude who dated Taylor Swift for three months.
Citations: Tom Hiddleston on Taylor Swift, Heartbreak, and Great Bolognese (GQ)