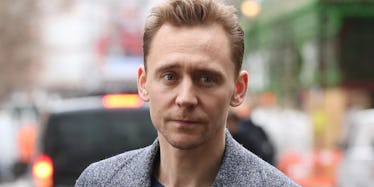 Tom Hiddleston Gets Pissed Over Question About Taylor Swift In New Interview
REX/ Shutterstock
Look, whether you're famous or not, talking about an ex is never fun.
The past is in the past -- and sometimes, you just don't want to discuss it. That's normal, guys. Exes aren't exactly an "enjoyable" topic of conversation.
Tom Hiddleston knows exactly how that feels because he'd rather discuss anything but Taylor Swift.
Sorry, Tay.
Apparently, Tom's done tip-toeing around when it comes to his famous ex-girlfriend because he completely dodged a question about her during an interview with The Telegraph on Monday.
During the interview, the 36-year-old actor was asked if he "regretted the publicity and gossip the romance engendered."
Tom responded,
What should I regret, in your mind? I would rather not talk about this, if that's all right.
BOOM. DONE. CAPISCE? GOODBYE, GHOST OF HIDDLESWIFT PAST.
After abruptly halting the conversation and claiming he has no regrets, Tom decided to elaborate on his reasons for why he'd rather not talk about his songwriting ex of three months.
He reportedly stated,
I'm just thinking about this. Everyone is entitled to a private life. I love what I do and I dedicate myself with absolute commitment to making great art and great entertainment, and in my mind I don't conflict the two. My work is in the public sphere and I have a private life, and those two things are separate.
Good point, Tom. Stick it to 'em!
Of course, this doesn't mean he has anything bad to say about Taylor, as pretty much everything he's ever said about the songstress in the past has been complimentary.
During an interview with GQ in February, he revealed the elusive love affair the two shared was "real," and said,
Taylor is an amazing woman. She's generous and kind and lovely, and we had the best time.
Quite obviously, that's the only compliment we're going to get out of Tom for a while.
In the meantime, do not -- under any circumstances -- bring up the "T" word around him.
Citations: Tom Hiddleston on fighting King Kong, the 'magic' of Eton, and why he has no Taylor Swift regrets (The Telegraph), Tom Hiddleston Gets Testy Over Taylor Swift Question: "What Should I Regret?" (E! Online)