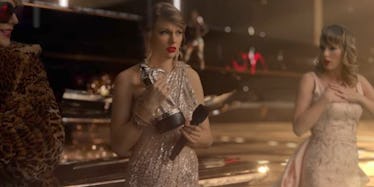 Taylor Swift Calls Out Kanye West In Final Scene Of Music Video And It's So Dramatic
YouTube
Guys, I'm honestly speechless right now. Taylor Swift's music video for her brand new single, "Look What You Made Me Do," finally aired during the VMAs on Sunday, Aug. 27. Based off the lyrics of the feisty new song, we knew it was going to diss Kanye West. However, I don't think we were ready for the blatant digs Taylor threw at the rapper during the last scene of the video.
In fact, Kanye references in Taylor Swift's "Look What You Made Me Do" are so freakin' dramatic that I'd honestly hate to be Kanye West right now. Why? Because Taylor basically dedicated the last scene of her new video to the rapper... and it's savage, to say the least.
Before the video ends, a line of different "Taylor Swifts" from various points in her music career forms and they begin talking to one another. Each one has a different outfit and a different persona, including the Taylor wearing a sparkly dress and big, curly hair from her country days, and the ringmaster Taylor from her Red tour. While they're talking amongst each other, some of the Taylors make fun of the stereotypes she has endured, like being "too nice" and "playing the victim."
It's surreal, TBH.
However, my mouth dropped when the Taylor Swift from the 2009 MTV Video Music Awards said her final line of the video. At the end of the clip, she's shown wearing the same sparkly dress she wore eight years ago while accepting the Best Female Video award, and looks around with the same facial expression she had when Kanye interrupted her acceptance speech.
Then, she ends the video and says, "I would very much like to be excluded from this narrative."
DANG, TAYLOR. YOU WENT THERE.
If you're confused about why she said that, rewind back to July 2016 when Kim Kardashian reportedly publicized a phone call between Taylor Swift and Kanye West about Kanye getting Taylor's permission to use her name in his song, "Famous."
After the call was released, Taylor posted a now-deleted Instagram telling her fans that she'd "very much like to be excluded from this narrative."
Based off the Kanye digs in her video, I guess she changed her mind. She's definitely not "excluded from this narrative" yet, and apparently, the other "Taylor Swifts" agree. After she says the dramatic line, the other Taylors in her video say "Shut up!" and the video ends.
Savage.