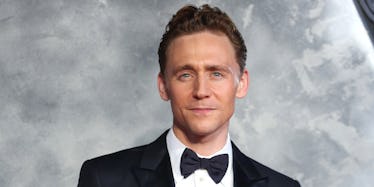 Tom Hiddleston Was So Relieved To Not Talk About Taylor Swift In An Interview
Shutterstock
Carrie Fisher once called Hollywood a place you "can't find any true closeness," but Carrie Fisher never watched Benedict Cumberbatch interview Tom Hiddleston.
The "Dr. Strange" star spoke with his newly single pal for the October cover of Interview magazine and refused to dig for info about Tom's recent breakup from Taylor Swift, aka the untimely death of Hiddleswift.
Benny made it abundantly clear he disagreed with the "presumption that, because your work and your promotion work is very public, your private life should be, too."
He wrote,
Without getting into a huge debate, I just want to say that I'm not going to ask questions about my friend's personal life just because there are unsolicited photographs of him and a certain someone, in a relationship or together. I'm not going to get into that. So that door is closed, dear reader.
Tom thanked his friend and, for a moment, we all basked in the warmth of Ben and Tom's love, forgetting the many photographs of Hiddleswift that were widely considered to be staged.
America still can't say for sure if Hiddleswift was personal or promotional, though it seems Tom is retrospectively declaring it the former.
Whether or not "The Night Manager" actor deserves to be gracefully hoisted up onto that particular high horse by Benedict before the duo rides romantically down the California coast remains unclear. Their friendship, on the other hand, is ~*gOaLS*~.
The pair even got deep and discussed their greatest fears. Tom admitted,
Mine is regret. I fear looking back and wishing I had done things I hadn't.
Go right ahead and assume he's talking about his very public romance with the ol' Swiftonator, here, because that's how vague, leading statements work.
Oh, Tom, don't regret your past. Regret the future Top 40 song/album dedicated to your failed relationship.
Citations: Benedict Cumberbatch Interviews Pal Tom Hiddleston – but Taylor Swift Talk Is Off-Limits: 'That Door Is Closed' (PEOPLE)