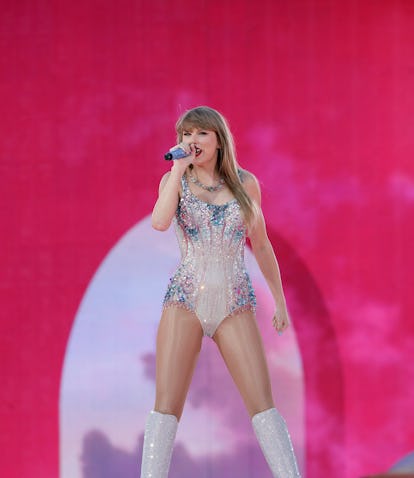 10 Genius Dupes For Taylor Swift's Eras Tour Outfits
Find a similar look to *that* Versace bodysuit.
Natasha Moustache/TAS23/Getty Images Entertainment/Getty Images
We may receive a portion of sales if you purchase a product through a link in this article.
Whether you're attending a show or are following along on TikTok, it's probably safe to say that you've fallen in love with Taylor Swift's Eras Tour outfits. Although you may not be able to get the exact looks she rocks during her shows, you can come close to recreating the 'fits with some solid dupes.
With the Eras Tour predicted to gross $1.6 billion, according to CBS News, you can imagine the options were limitless when it came to Swift's outfits. But if you don't have the budget for Louboutin heels or custom-made rhinestone Versace bodysuits, there are still plenty of ways to ball on a budget and represent your favorite era.
Below, find ways to replicate 10 Eras Tour outfits. And even if you aren't attending the concert, these looks are fun to recreate for a Swift-themed party or tailgating outside the concert venue.
1. Lover Era Tour Outfit Dupes
Taylor starts the show off with the Lover Era in a custom-made rhinestone bodysuit by Versace. She also wore a silver, sparkly oversized Versace blazer with tall, silver rhinestone boots by Christian Louboutin for a different outfit. Below, these glittery boots from Amazon go with both the bodysuit and blazer — a two-for-one Lover deal.
2. Fearless Era Tour Outfit Dupes
The Fearless Era brings all the nostalgia, as the album came out in 2008. Taylor dresses in gold and, of course, sparkles, for the era, showcasing this Roberto Cavalli fringe dress. The gold Louboutin boots, too? Amazing! These dupes are both from Amazon and nearly identical to Taylor's.
3. Evermore Era Tour Outfit Dupes
Evermore is one of Swift's more recent albums, it came out before Midnights (not counting her re-recorded albums). This era is whimsical meets boho, and Swift's outfits are stunning and perfectly fitting for the theme. She wears a custom-made Etro mustard dress with florals. It's unclear how much Swift spent on all of her tour outfits; however, Etro's most expensive dress, which is ready-to-wear, retails for $14,000. This dupe from Forever 21 is close to the Etro look, with almost the exact same color and boho vibe.
4. Reputation Era Tour Outfit Dupes
Swift did not come to play with her Reputation album. And her outfit, also by Roberto Cavalli, did not disappoint either. The album is known for its grunge feel and dark lyrics, and snakes tend to be the album's mascot. This outfit requires some DIY work, but it's as simple as ironing on some patches. This $41 jumpsuit dupe from Pretty Little Thing even has the bare arm feature, like Swift's.
5. Speak Now Era Tour Outfit Dupes
The only Speak Now song on the setlist is "Enchanted," one of the most beloved songs among Swifties. During this performance, she wears three different gowns by Nicole + Felicia, Zuhair Murad, and Elie Saab. This ethereal set features purples, champagne, pinks, and glitter. If you're searching for a Swift-inspired gown, all three of these dupes are under $100.
6. Red Era Tour Outfit Dupes
Swift re-recorded her Red album and released it in November 2021. The album features "All Too Well: 10 Minute Version," which is probably the song fans anticipate hearing the most on this tour.
Swift wears a graphic tee during this era, with her classic saying, "A lot going on at the moment." She gives all the nostalgia with her black hat, a staple she repeatedly wore when her original Red album was released in 2012.
As for dupes, there are dozens of graphic tees on Etsy with this saying, and you can find the red blazer and hat on Amazon. The black glittery bodysuit dupe from Cider can be re-worn during a night out, and the matching shorts go perfectly.
7. Folklore Era Tour Outfit Dupes
Folklore was released shortly before Evermore in 2020. For this era, Swift rotates between three stunning Alberta Ferretti dresses, all flowy and long: one purple, one green, and one cream/ivory. The dresses were custom-made for Swift, and beautifully represent the Folklore album. These dupes below all have that whimsical, flowy style to them, with draped or loose sleeves.
8. 1989 Era Tour Outfit Dupes
Some of Swift's most popular singles come from 1989, including "Shake It Off" and "Blank Space." During this era on tour, she's worn two different (but nearly identical) jeweled two-piece sets, one in magenta and one in green, by Roberto Cavalli. The jeweled top below, a dupe from Amazon, has the perfect colors to represent the album, and the tassel skirt is only $16.
9. Acoustic Era Tour Outfit Dupes
At each show, Swift has an acoustic segment, featuring two "surprise" songs that can be from any era. These songs have never been performed live on previous tours, and for some fans, this is the part of the tour they're most excited about. For her acoustic performances, she rotates between a green, yellow, and burgundy long, flowy, ruffled dress by Jessica Jones. These dupes below both feature the tiered, ruffle style, both from Lulus for under $100.
10. Midnights Era Era Tour Outfit Dupes
Last, but certainly not least, is the Midnights Era. Midnights is Swift's most recent album, which came out in October 2022. She wears outfits made by Oscar De La Renta, including a navy blue and black rhinestone bodysuit and an iridescent, crystal dress. The bodysuit comprises 5,300 crystals and beads, each hand-sewn. While these dupes don't have 5,300 crystals, they do look pretty close to the original looks.