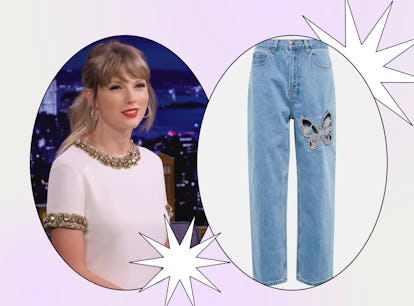 6 Dupes For Taylor Swift's $673 Butterfly Jeans From Area
The iconic "rebirth" pants quickly sold out, but you can still get the look for less.
We may receive a portion of sales if you purchase a product through a link in this article.
It was the split heard 'round the world: Taylor Swift and Joe Alwyn reportedly broke up after six years of dating. Amid the theories that she's been hinting at their breakup with her Eras Tour setlist, there's another theory that she hinted at moving on from this pivotal era with one of her recent styles. On Monday, April 10, Swift stepped out for dinner in New York City, making her first public appearance after the alleged separation first made headlines two days prior. She sported a simple black top, Mary Jane pumps, a bejeweled purse, and a sleek hairdo — but it was Swift's butterfly jeans that fans couldn't stop talking about.
The embellished high-rise straight jeans from NY-based studio Area — which quickly sold out the morning after Swift rocked 'em during her night out with Jack Antonoff and Margaret Qualley — are your standard denim, apart from the bedazzled butterfly cutout in the leg. It's because of that one particular detail that Swifties are dubbing it her "rebirth" 'fit, as butterflies are a known symbol of renewal and transformation. Think of this look as Princess Diana's Revenge Dress (Taylor's Version).
Despite the $673 price tag, Swift's pants are no longer available on the original website. And even if they were, it's not like everyone has "ludicrously capacious" amounts of money to spend on casual attire. Sooo, here are some dupes to get Taylor Swift's butterfly jeans look for way less.
A Wide-Leg Butterfly Moment
These relaxed wide-leg jeans feature stunning butterfly patches on both legs so you can put your own spin on the "rebirth" 'fit. the best part: You don't need to spend nearly $700. Wear these with a fitted crop top for a little shirt, big pants vibe.
A Near-Exact Dupe
Now this is a Taylor Swift jeans duuuupe. This straight-leg pair has a sparkly butterfly cutout that makes it the closest thing to the Midnights singer's for a fraction of the price. Pair it with a black top and heels for a total 'fit recreation.
This One Wears Its Heart On The Pant Leg
If it's the bejeweled cutout you're into, these Fashion Nova jeans are the next best thing. They have a similar cut to Tay's straight-leg jeans, but this has a heart cutout instead of a butterfly. They're a subtly spicy way of showing skin with just a peekaboo window.
A Pair That Flies Into Spring
This pair is similar to the Cotton On one, with the butterfly patches on each leg. However, if you're looking for more of a straight leg like TayTay's, this is your way to go. This '90s-inspired cut will hit different.
A Bejeweled Moment
If you're looking to make the whole place shimmer, look no further. These totally capture the energy of the sparkly embellishments on Swift's pants, and they even have a similar wash and cut. Wear this to the Eras Tour or on nights out with friends, just like the singer-songwriter herself.
A Cargo Cutout
While not jeans, if it's the butterfly cutout you're after, these are *it*. Cargo pants have been trending for the past couple of years, and this is your way in, especially since they give the same Y2K vibes as Tay. The wider leg and stretchy waistband make this a more comfy alternative to jeans, and the cobalt blue shade is a perfect pop of color for the spring and summer months.