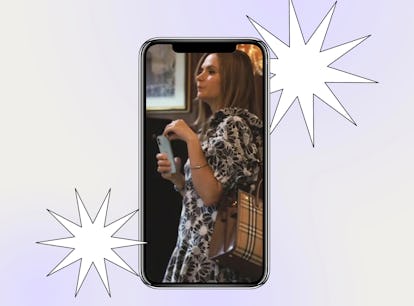 Succession Sparks "Ludicrously Capacious" Bag Debate On TikTok
Greg's date's ~$3,000 Burberry accessory was the talk of Logan's party and IRL social media.
HBO Max/Elite Daily
We may receive a portion of sales if you purchase a product through a link in this article.
There's always something about Cousin Greg. Somehow, the biggest faux pas from Logan's birthday party on the Season 4 premiere of Succession wasn't Greg accidentally making an NSFW video — but it still related to him; more specifically, his date Bridget and her Burberry purse. Now, fans can't stop talking about the large accessory, which Tom called a "ludicrously capricious" bag, and it's actually caused quite the debate on social media.
What's The Deal With Succession's "Ludicrously Capricious" Bag?
On the Sunday, March 26 premiere of the HBO series, Nicholas Braun's bumbling character's date shows up wearing a hefty Burberry tote on her shoulder and became the laughingstock of the party. When Greg questions why, Tom goes on a rather telling rant, saying:
"Why? Because she's brought a ludicrously capacious bag. What's even in there? Huh? Flat shoes for the subway? Her lunch pail? I mean, Greg, it's monstrous. It's gargantuan. You could take it camping. You could slide it across the floor after a bank job."
(For those without as colorful a vocabulary as Tom, "ludicrously capacious" translates to "outrageously big.")
This isn't the first time the HBO show has called its viewers broke (nor will it be the last), but it definitely feels the most real. While certainly big and bold, the bag still teeters around $3,000 — a month's rent or a paycheck for some people. The difference is that, while Bridget uses the designer label to elevate her status, the Roys don't need labels to prove themselves. To them, Bridget is a lowly commoner; in reality, she's probably wealthier than most.
Fans immediately ran to socials to react to this instantly iconic scene: Some commented on why they think Tom said this, others recreated the scene with their own bag, and of course the jokes were endless. Below, you'll find a roundup of what TikTok had to say about this unforgivable party foul.
So, What Does This Say About The Characters?
If you asked the Roys to point you in the direction of the nearest subway station, they'd probably laugh in your face. Firstly, because how dare you ask them such a question? Secondly, because it's 99.9% likely that they've never even contemplated taking the subway. And why would they when they have a driver at their beck and call? Author Amy Odell (@amyodellwriter) explains the "quiet luxury" in this scene above.
Despite Tom coming from some of the most humble backgrounds of the main characters, he had to shed much of his true self to fit in with the Roys, and how soon he forgets what it's like to be shamed for being an outsider. The user above explains why it was important that Tom was the one saying this, and what made him dig into Greg's date.
Ludicrously Capacious Bag Reveals
Leaning more into the humorous side of things, some TikTok users unapologetically displayed their own ludicrously capacious bag. This user reenacted the scene by unveiling all the items Tom hypothesized were in the bag, camping canteen and all.
User @kelsey_kotzur added to the discourse by revealing a bag that puts the Succession one to shame, captioning the vid, "ludicrously capacious bag check." That Burberry is no match for this Longchamp.
...And All Of The Bag Jokes
There was no shortage of jokes about #BagGate. Has anyone checked on Burberry to see if the brand is OK? Even the most "monstrous" bags have feelings and deserve to feel *bonita*! Google trends data (provided by 3DLOOK) reportedly reveal that searches for "Burberry tote bag" skyrocketed by 310% since Sunday night, so hopefully that gives the company a much-needed ego (and sales) boost.
This user dressed in their finest birthday attire to reenact how the guests reacted to this abomination — set to the show's theme song.
Other users also tapped into the POV of Greg's date with an audio from Jessica Simpson. For ~$3,000, she better be wearing it everywhere she goes.
The viral Nicolas Cage/Pedro Pascal memes were used as another iteration of how one fashion choice ran afoul. Homegirl was probably coming after her 9-5, give her a break.
Using another viral trend, user @sophie.grace.clark could have easily been posted from Tom's burner account with this video.
Marketable Moment?
Some brands even used the TikTok hype to market their own ludicrously capacious bags and other supplies because, well, there's a reason people own them. For all the big bag apologists, SSENSE is reminding you that this brand's got your back.
Even the Chicago Transit Authority weighed in on #BagGate.
It's hard to say if HBO knew just how big the bag scene would get, but it's inadvertently become a marketing opportunity for the network. Users like @lena.from.tart have vowed to start watching Succession so they, too, can be part of the discourse — they wouldn't want to be an outsider like Greg's date. Since this particular episode was just the season opener, it's safe to say there will be plenty more poor shaming, Disgusting Brothers shenanigans, and painstakingly real insults disguised as jokes.