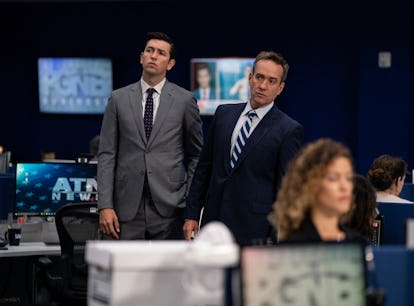 Succession Fans Have The Perfect Spinoff Idea Thanks To That Season 4 Premiere
The name is just too perfect.
The Roys are back in town, but it's a different family that has Succession fans most excited for the HBO drama's final season. Well, they're more of a found family; brothers in arms. Disgusting brothers. Yep, Tom and Greg have taken their strange relationship to the next level in Season 4, and their new duo name already has fans clamoring for a Succession spinoff. And TBH, there's a chance it could really happen.
The pathetically laughable Tom Wambsgans and the laughably pathetic Greg Hirsch have been a favorite pairing for Succession fans ever since they first formed their weird little alliance back in Season 1. It may have taken three seasons since then, but the duo finally has a name. The biggest bombshell of the Season 4 premiere had nothing to do with Kendall, Shiv, and Roman trying to screw over their dad, it was the revelation that Tom and Greg had started referring to themselves as The Disgusting Brothers. Apparently, after his split from Shiv, Tom began to embrace his actual true love, Greg, and the two became sleazy womanizing playboys.
Fans were immediately obsessed with the obscene new name, so much so that social media flooded with calls for a The Disgusting Brothers spinoff series following Tom and Greg's antics.
Of course, fans couldn't help themselves from imagining all the other Disgusting Brothers in pop culture as well.
The popularity of the Disgusting Brothers name may have amplified the calls for a Tom and Greg spinoff, but it's an idea that had already been tossed around a lot before it even had the perfect name.
Succession creator Jesse Armstrong first gave credence to the idea of a spinoff in his Feb. 23 New Yorker profile where he confirmed Season 4 would be the show's end. "The feeling that there could be something else in an allied world, or allied characters, or some of the same characters—that's also strong in me," Armstrong said. "I have caveated the end of the show, when I've talked to some of my collaborators, like: Maybe there's another part of this world we could come back to, if there was an appetite?"
That breadcrumb was enough for fans to call for a new show focused solely on the world of Tom and Greg. Even the show's stars got behind the idea. In a March 24 interview with Newsweek, Brian Cox and Alan Ruck said the only spinoff they could imagine would star Cousin Greg. "The only character I think could be in a spinoff is Greg, possibly," Cox said. "Greg could be in a spinoff, a whole series on idiocy [and] his ridiculousness, so that's the only way I could see a spinoff happening."
"The only [spinoff] I can think of that would really work would be Tom and Greg together, the adventures of Tom and Greg," Ruck said.
And yeah, Greg himself is totally here for it. "Yeah, let's do it. Let's do it, sign me up," Nicholas Braun responded. "I'll talk to Jesse later today, I'll talk to HBO and we'll get it, we'll get something together."