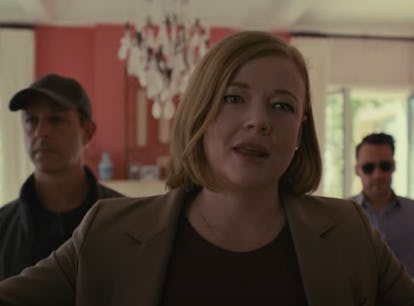 The Roy Siblings Form A Rebel Alliance In The New Succession Promo
Logan will not take this well.
HBO
It took almost two years for Succession Season 3 to arrive after the 2020 Hollywood shutdown caused filming delays for HBO's sleeper hit. With an international cast (Brian Cox and Matthew Macfadyen are U.K. residents; Sarah Snook is Australian) and a finale set in Italy, filming took a long time to get back underway. But now that Season 3 has come and gone, fans are asking when Succession Season 4 will be gracing these shores. After all, the deliciousness of the Roy family drama is enough for anyone to ask for more.
Warning: Spoilers for Succession Season 3 follow. Succession Season 3 was a family feud, Team Kendall versus Team Logan. Kendall went after his father, believing he'd win if he could convince his siblings to take his side. It took the entire season to get there, but Kendall finally got Roman and Shiv in his ranks. But as the three Roy siblings drove to where Logan set up camp, ready to stage a coup to stop their father from selling Waystar to GoJo, they made one fatal flaw: They didn't keep the coup a secret. Instead, Shiv told the plans to Tom, who went full Red Wedding and betrayed them. Logan moved fast, changing the paperwork to take the three children out of their power positions as company shareholders. Then he directed his team to sell the company, putting the plan in motion before any of them could stop it.
Fans came into the Season 3 finale expecting a demise, assuming it would be Kendall's. Instead, Kendall is alive, and Waystar RoyCo is dead. And the battlefield for Season 4 is now utterly upended.
Succession Season 4 Filming Updates
Season 3 will not be Succession's swan song. On Oct. 26, 2021, HBO confirmed the show will return for another season. That said, this is not a fight that can go on forever. It's tough to know how many more seasons of Succession there will be. Showrunner Jesse Armstrong has already suggested there will only be one more. Speaking to The New Statesman before the Season 3 premiere, Armstrong said, "There's going to be a very definite moment when that story is over. It can't go on too long."
Actor Brian Cox agreed, though he said he sees a possibility of two more seasons. In an interview with British GQ, he said, "I would say possibly two more, and then I think we're done. But it just depends and may just be only one more. It depends [on] what the writers feel. I know they've got an endgame." With Waystar RoyCo no longer in the hands of the family, it seems like that endgame has already begun.
Deadline reported Season 4 was underway in New York City on June 27, 2022, and the season's premiere date is set for spring 2023.
Succession Season 4 Cast
Despite fans' suspicions, the series did not off any of those who were competing to take over Waystar. (They may be fighting for a metaphorical Iron Throne, but there's no trial by combat here.) Fans can be secure knowing that another season will mean the return of the full Roy family roster. That starts with Brian Cox as patriarch Logan Roy, Hiam Abbass as his third wife, Marcia, and Zoë Winters as his current mistress, Kerry.
All four children will be back as well, including Alan Ruck as oldest son Connor with Justine Lupe as his now-fiancée, Willa; Jeremy Strong as the once-heir apparent Kendall, with Natalie Gold as his ex-wife, Rava. Kieran Culkin will also return as the youngest son, Roman, and J. Smith-Cameron, the woman who refused him in his hour of need, Gerri. Sarah Snook will also be back as Logan's only daughter Shiv; Matthew Macfadyen as Tom, the husband who betrayed her; and Nicholas Braun as Cousin Greg. Whether or not Dasha Nekrasova will return as Greg's possible girlfriend, Comfry, remains to be seen.
Also confirmed to return for Season 4: Peter Friedman as Frank Vernon, the vice-chairman of Waystar RoyCo, David Rasche as CFO Karl Muller, Fisher Stevens as Parks and Cruises VP Hugo Baker, Scott Nicholson as Colin Stiles, and Jeannie Berlin as Cyd Peach. Alexander Skarsgård, who plays Lukas Matsson, will return too.
And finally, Harriet Walter will probably also get another guest star turn as Logan's second wife, Lady Caroline Collingwood, with Pip Torrens as her new husband, Peter.
Get The Elite Daily Newsletter
You deserve emails that are actually fun — full of juicy celeb intel, astrology, helpful dating advice, and much more. Luckily, our newsletter will bring you all of that, well, daily.
Succession Season 4 Plot
Along with the announcement that the series was back in production, HBO released an official synopsis for the new 10-episode season:
The sale of media conglomerate Waystar Royco to tech visionary Lukas Matsson moves ever closer. The prospect of this seismic sale provokes existential angst and familial division among the Roys as they anticipate what their lives will look like once the deal is completed. A power struggle ensues as the family weighs up a future where their cultural and political weight is severely curtailed.
Succession Season 4 Trailer
On Oct. 24, 2022, HBO released the first promo for Succession Season 4, featuring Logan still feeling high and mighty while his four children conspire against him. And as for Tom? He's ready to talk with Shiv about backstabbing his wife. Wonder how that conversation will go...
Succession Season 4 Premiere Date
According to the promo, Succession Season 4 will arrive in spring 2023.
This article was originally published on